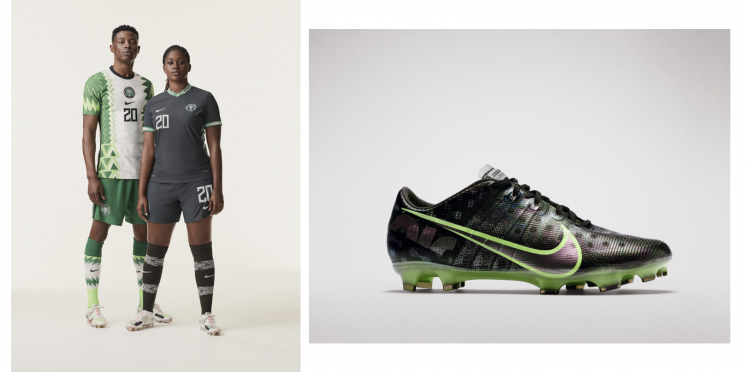 Nike Unveils Latest 2020 Innovations
Nike unveil its latest innovations for 2020 which include some very exciting releases for Nike Football below;
National team kits for USA, Korea and Nigeria: Art + Science
In addition to the art of designing football kits, science is always at the forefront of the process. Nike's Next Gen knit fabrication results from capturing data on more than 300 footballers and football-specific movements. The design team leveraged 4D visualization tools to bring the product to life before creating samples. This process helps Nike analyse how the kits will perform on body with regard to stretching, draping and fit. Using generative design, Nike then knitted kits that are 55 percent faster wicking, 13 percent more breathable and with 10 percent more stretch than Nike's previous kits. The precision knitting is reinforced where needed and vented in areas prone to heat. The results, upon close inspection, reveal a highly intricate knitting structure, while not distracting from the national pride artistry from afar.
Three teams were revealed today with the remaining federations being launched in country during the next few months.
The Nike Air Zoom Mercurial introduces new firsts to football
Nike's concept football boot, the Nike Air Zoom Mercurial, is built around a full-length articulated Zoom Air bag that provides a unique underfoot sensation and enhanced energy return. To achieve this, the internal boot chassis was transitioned to the plate, leaving only the sockliner between the foot and the Zoom Air bag for maximum effect. While Nike Football experimented with Air bags decades ago, modern advancements to the technology and its application inspired the design team to revisit its inclusion for this special project. Beyond Zoom Air's functional application, it also provided inspiration for the overall aesthetic of the boot.

"We started with a full length Zoom Air bag and visualized what it would look like if the Air bag kept growing up the sides and enveloped the boot," says Jeongwoo Lee, Senior Design Director, Nike Football."This led to the creation of an upper so translucent, varying the hues of the internal sockliner drastically impacts the external appearance of the boot."

For the first time in football, the boot also features a Nike Flyprint upper. Flyprint is Nike's first 3D-printed textile upper in performance footwear and debuted on the Nike Zoom Vaporfly Elite Flyprint, worn by marathoner Eliud Kipchoge.
---