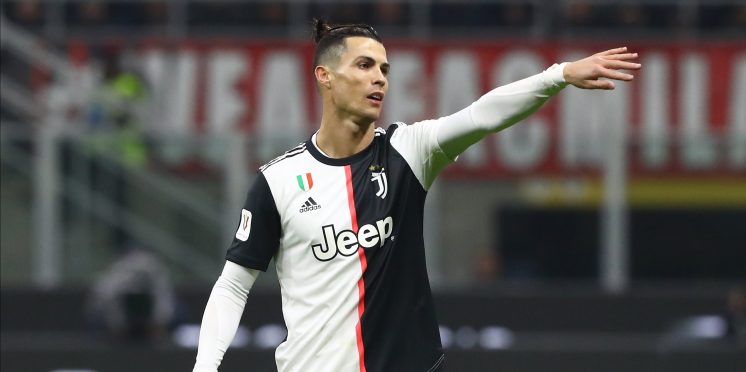 10 footballers with the strangest hobbies
All footballers need a hobby to help them unwind after a hard day spent honing their skills on the training pitch. Many of them play golf, head to the shops to splash out on designer labels or gather round a screen to play video games. Yet some footballers have chosen a more peculiar pursuit to keep them entertained in their spare time:
Cristiano Ronaldo
The four-time Balon d'Or winner has an estimated net worth of £361 million. With all that cash, Ronaldo could take up yacht racing, art collecting, bathing in Dom Perignon or travelling the world in a private jet. Yet Ronaldo is apparently a man of simpler tastes. "Playing bingo can be very exciting," he insisted when revealing his quirky hobby in a 2016 interview with Portuguese newspaper Sport. The Juventus superstar apparently took it up when he moved from Sporting Lisbon to Man Utd as a teenager in 2003. It helped him learn English, but it seems to have instilled a lifelong love of bingo in him.
Axel Tuanzebe
In 2018, the Man Utd youngster set a new world record by clearing a game of Hungry Hungry Hippos in just 17 seconds. The Guinness Book of World Records team were on hand to confirm that it was the fastest time in history. It is pretty much the most exciting thing to happen in Tuanzebe's career thus far, as he has only made 10 appearances for the Red Devils. However, there is still plenty of time for him to break into the starting 11 at Old Trafford. He just needs to show the same hunger on the pitch that he displays when controlling a toy hippo. Man Utd could do with a bit more bite, as they are well off the pace in the title race and there is not much love for them in the expert Premier League predictions, so Tuanzebe could be the man to turn their fortunes around.
David Beckham
The former England captain has dabbled at a range of pursuits since hanging up his boots. He has starred in films like King Arthur and Deadpool, while building up a successful fashion brand, releasing a range of aftershaves, campaigning against Brexit, setting up charities and launching an MLS team. When he wants to unwind after a long day at the coalface, Golden Balls meets up with celebrity pals Tom Cruise and Will Smith to indulge in a spot of fencing. Mission: Impossible star Cruise is the instigator, according to Smith. "This is his way of getting together and bonding," Smith said. "David and I go to his home and just do fencing."
Daniel Agger
The former Liverpool defender is an accomplished tattoo artist. The Dane was first inked when he went on a school trip at the age of 15, and his body is now covered in extravagant tattoos. YNWA is printed on his knuckles to reference the Liverpool anthem, You'll Never Walk Alone, while there are also Viking graveyard signs, love hearts and Latin proverbs vying for space on his skin. He spent his spare time training to be a tattoo artist, gained the necessary qualifications and began working at a renowned parlour called Tattoodo after calling time upon his career.
Joe Allen
The tireless Welsh midfielder was the cover star on the Spring 2016 issue of trade journal Chicken & Egg. Allen and his girlfriend spend their spare time re-homing commercial chickens and giving them a happier life. "Lacey was behind the decision," said Allen, who moved from Liverpool to Stoke that summer. "We both have an interest in animal welfare but she came up with the idea to save hens and I agreed it was something that would be great to do.
We didn't have any hens growing up but wanted to help chickens after they finished their commercial lives." At the time, he had a pair of roosters called Bruce and Rodney are the roosters, plus 12 hens: Meg, Leg, Silkie Steve, Kate, Silkie Steve junior, Giblets, Snowy, Nugget, Kiev, Dora, Holly, Shimmer, Shine and Chickaletta. Allen also revealed that Lacey bought him a cockerel for his 24th birthday, and he was delighted with the surprise.
Andrey Arshavin
Many footballers develop a passion for fashion. The likes of Beckham, Ronaldo and Zlatan Ibrahimovic have their own brands, while others simply like to make a statement. Yet diminutive former Arsenal winger Arshavin took things one step further by studying fashion design at university in St Petersburg. He initially signed up for a degree in chemical technology, but he apparently switched to sewing due to the number of hot women on the course. Arshavin now owns his own women's clothing line and he plays a leading role in the design team.
Matt Oakley
Former Southampton and Leicester midfielder Oakley surprised everyone in 2001 when he revealed he had just taken a delivery of nine red-bellied piranhas. The carnivorous fish are usually seen swimming in the freshwaters of South America or eating the victims of super-villains in Hollywood films, but Oakley thought they would jazz up his tank at home. "I have always wanted fish," he said. "And the closest I'd been was when I won a goldfish at the fair. I didn't want the normal guppies, tetras or angel fish, I wanted something unusual and piranhas certainly make feeding time interesting."
Michael Owen
The Champagne lifestyle holds little appeal for Owen, who does not exactly come across like a hell raiser in interviews. That perception was confirmed when he revealed his favourite way to pass the time: completing large jigsaw puzzles. He once posted a picture of a 1,000-piece, horse-themed jigsaw he was working on. The long winter nights must just fly by at Owen's house.
Manuel Almunia
The Spaniard spent most of his time at Arsenal committing howlers on the pitch and engaging in bitter rows with rival Jens Lehmann off it. Yet there is more to Almunia than meets the eye. He is a massive World War II buff, and he would always delve into the wartime history of each city the Gunners visited on their European adventures. He loves nothing more than watching films like Saving Private Ryan and The Boy in the Striped Pyjamas, while reading various history books on the war. Rather than whisking his girlfriend off to the Maldives or Dubai, he took her to Omaha Beach to learn more about the Normandy landings.
Nolberto Solano
Solano spent several years terrorising Premier League defenders while bombing up and down the wing for Newcastle. He had a fantastic right foot, allowing him to whip in all manner of teasing crosses, free-kicks and corners. Alan Shearer was the main beneficiary of his ability to provide sumptuous assists, and he is held in high regard by Magpies fans, while he is a legend in his native Peru.
Yet Solano's talents extend well beyond the football pitch. He is also an extremely accomplished trumpet player, and he founded a popular salsa band called The Geordie Latinos. He would bring his trumpet into the dressing room before games to help inspire passion in his teammates, and he also used it to pay tribute to Sir Bobby Robson after the great man died.
---