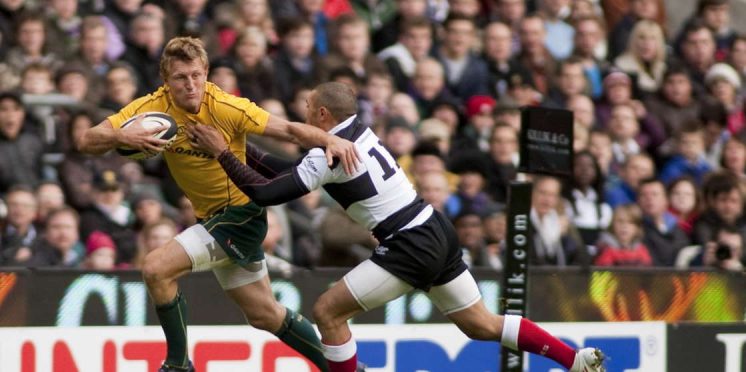 This is the most watched rugby try of all time
Gareth Edwards's famous 1973 try vs. All Blacks is the MOST watched of all time – over 4 million views.
Jean-Luc Sadourny's try against New Zealand has been viewed over 1 million times – placing it in second.
New Zealand feature in the top six most watched videos.
The All Blacks's Jonah Lomu and Christian Cullen feature more than once in this top 20.
Football dominates the UK's sporting landscape, with less thought spared for the arguably underrated rugby.
The sport can showcase incredible athleticism, teamwork, not to mention the thrill of a successful try.
---
So which tries are our favourites?
Whoever you ask, their list of top rugby tries will be different. That's why LiveRugbyTickets.co.uk has taken to YouTube to help quantify this big question.
Using the current number of views per video*, the most watched, and therefore top 20 international rugby tries can be revealed!
Not only that, estimated earnings of each famous video have been calculated** using Influencer Marketing Hub's YouTube Money Calculator.
RESULTS: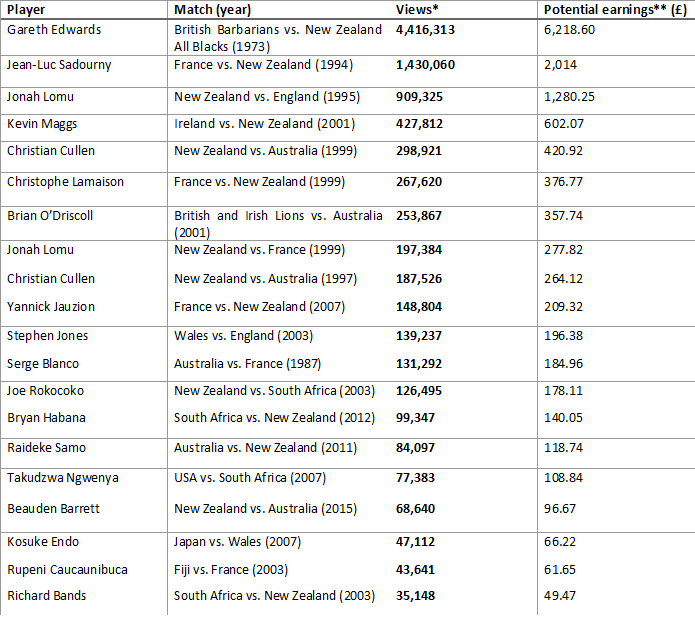 It seems the classic, older upsets receive the most love. First place goes to Gareth Edward's finish in 1973's Barbarians vs. the All Blacks. With 4,416,313 views, this masterpiece of a team effort could earn the uploader a whopping £6,218.60.
Feast your eyes on it below:
YouTube: The Greatest Try of All Time, 1973 All Blacks vs. Barbarians
The famous underdog try by Jean-Luc Sadourny, in France's battle against New Zealand (1994), claims second place. The showcase has earned an impressive 1,430,060 video plays and a potential intake of £2,014.
In third, fourth and fifth place are:
Jonah Lomu (New Zealand vs. England 1995) – 909,325 views
Kevin Maggs (Ireland vs. New Zealand 2001) – 427,812 views
Christian Cullen (New Zealand vs. Australia 1999) – 298,921 views
Flipping the results, in 20th place is Richard Bands. While at the bottom of the results table, the South Africa hooker/prop still earned an impressive 35,148 views from his attempt, which earns the video £49.47.
This is followed by Fijian Rupeni Caucaunibuca's try in 2003 (43,641 views), Japan's Kosuke Endo in 2007 (47,112 views), and Beauden Barrett of New Zealand in 2015 (68,640), to name a few.
The remaining spectacular tries that make the top 20 can be seen in the table above, alongside how much each video earns.
---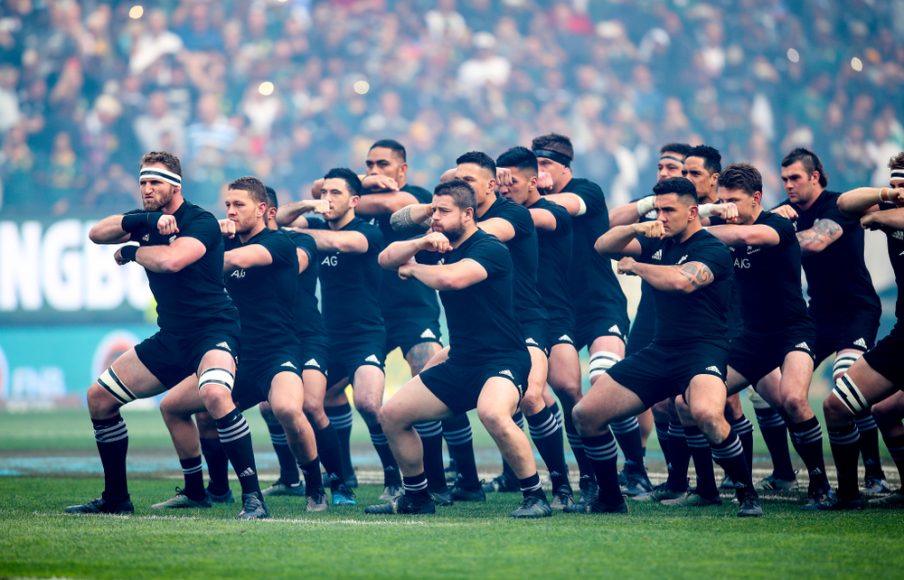 Other notable stats:
Not always on the scoring side, the New Zealand All Blacks feature in the top six most watched videos.
New Zealand is the only country to have the same player featured more than once – Christian Cullen and Jonah Lomu both appear twice.
The top two watched tries earn more than the remaining 18 combined (8,232.60 vs. 4,990.10).

*Video views taken from YouTube represent live data and are therefore subject to change. Data was extracted on 09/03/20.
**Data was obtained on 09/03/20 and correct as of this date. Influencer Marketing Hub calculates potential earnings in four ways: CPM vs. CPC; estimated gross earnings per 1,000 views; estimated earnings per subscriber; and estimated variance based on video engagement.
---