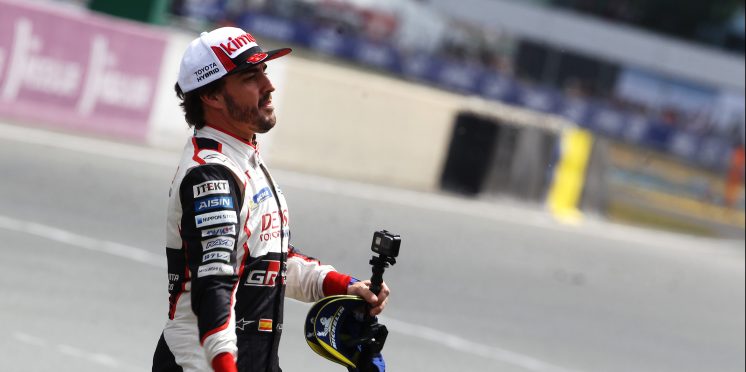 Amazon Prime Video announces a portrayal of Fernando Alonso
The new Amazon Exclusive documentary provides Prime members with exclusive access to the racing driver and his team throughout the past year
Fernando will launch exclusively on Amazon Prime Video in 2020 in Spain, France, Italy, the United Kingdom and Latin America
Amazon Prime Video has announced its latest exclusive documentary series, Fernando, a unique portrayal into Formula One World Champion, and one of Spain's most successful and popular sport stars, Fernando Alonso. Examining his life on and off the racing circuit as he encounters highs and lows during the months leading up to his first outing at Rally Dakar in South America, the five-part docu-series will launch exclusively on Amazon Prime Video in Spain, France, Italy, UK and Latin America later this year.
The unprecedented series showcases Alonso's passion for competing at the highest level and his utter determination to win. Documenting the past year, from his participation in the most important circuits like Indianapolis 500 or Le Mans 24 hours and culminating in his first outing at Dakar Rally last January, Fernando gives viewers unprecedented access to the Formula One world champion. During the documentary series, Alonso's inner circle reveals the man behind the champion with his manager Luis García Abad, his sister, Lorena Alonso, his partner, Linda Morselli and his colleague Carlos Sainz all featuring in the documentary series.
"Fernando Alonso is one of the most recognised and popular sportsman the world", said Ricardo Cabornero, Head of Prime Video Content, Spain. "We are proud to be able to bring this exclusive project, with never-before-seen footage of his most intimate and personal moments to our Prime members."
"Fernando Alonso and his team's trust to allow us to bring a camera into his day-to-day life has been integral in developing this series. "Fernando will show the public a personal and up-close vision of the Champion, quite different from the public profile we have seen", said, Javier Mendez, Director of Global Content, The Mediapro Studio. "The series will share with Fernando his reflexions about his possible come back to F1. Fernando is a winner and his goal along this year has been to demonstrate that he is the best driver in any four wheels vehicle".
Produced by THE MEDIAPRO STUDIO exclusively for Amazon Prime Video, Fernando offers unprecedented exclusive access to the racing driver's most intimate circle as audiences have never seen before.
This series will join the thousands of TV shows and movies available on Prime Video, including other Spanish Amazon Original series such as El Corazón de Sergio Ramos and Six Dreams, as well as the upcoming releases of The Challenge: ETA, El Cid, La Templanza and Un Asunto Privado. It also joins critically-acclaimed Amazon Originals, such as the Emmy Award-winning comedies Fleabag and The Marvelous Mrs. Maisel, Tom Clancy's Jack Ryan, The Boys, Homecoming, Hanna, Good Omens, Carnival Row and Donald Glover's Guava Island, as well as licensed and self-published content, all available in more than 200 countries and territories worldwide.
Prime members will be able to watch Fernando through the Prime Video app available on smart TVs, mobile devices, Fire TV, Fire TV stick, Fire tablets, Apple TV, game consoles, Chromecast and through Vodafone TV. In the Prime Video app, users can download all episodes on their mobile devices and tablets and watch anywhere offline at no additional cost, as part of a Prime Membership for just £79/year; new customers can find out more at www.amazon.co.uk/prime.
---