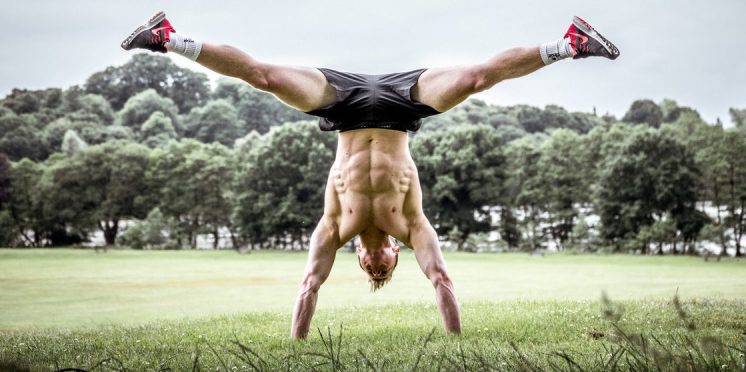 Experts in bodyweight training offering free online programme
Ex-professional rugby player David Jackson and elite strength and conditioning coach Tim Stevenson of the Nottingham-based School of Calisthenics are offering their popular bodyweight training programme for free to help people stuck at home amid coronavirus COVID-19.
Jackson, former captain and still the all-time top-scorer for Nottingham Rugby, has been working in partnership with fellow retired rugby player and British Paralympic Team trainer, Stevenson, on the School of Calisthenics for the past four years.
During that time their online training community has grown to over half a million followers on social media, 300K listeners on their podcast and a rapidly growing community of more than 22K training every day in their virtual classroom.
With many people now confined to their homes and unable to train in gyms or at sports clubs, the pair recognised an opportunity to offer their Bodyweight Basics programme for free to help people to keep fit, healthy and occupied within their four walls.
"We know how important exercise is for our immunity, but not only that, how positive and happy it makes us feel. Calisthenics might be one of the most motivating forms of training that's not only good for you physically but also mentally. Both the body and the brain need exercise," said Jackson. Bodyweight Basics is one of their most popular training programmes, divided into five bite-sized modules complete with exercises, reps, sets and the cues needed to follow along easily.
"We believe in the power of learning to move your body in new ways through progressive bodyweight training and there's never been a better opportunity to do that. Some of the exercises require equipment, but there are plenty that don't so you can train no matter your circumstances," said Stevenson.
"The fitness and training space is full of rules and expected behaviours. Calisthenics offers so many more opportunities to play with movement. With sections of the free programme dedicated to play, it's ideal to get the kids to join in too now that schools are closed."
Having both started in the calisthenics world around six years ago, the pair wanted to make it accessible to everyone, with programmes that were easy to follow, non-intimidating and created in a way that people could progress through in their own time.
The virtual classroom is an interactive platform that encourages people to share their comments, challenges and tips with other users from around the world helping to simulate a group training environment for those that want it.
Bodyweight Basics will remain free until 30 April, with the potential for the School of Calisthenics to extend that period based on the government's self-isolation guidelines.
Click here to join the programme or here for an introductory video.
---