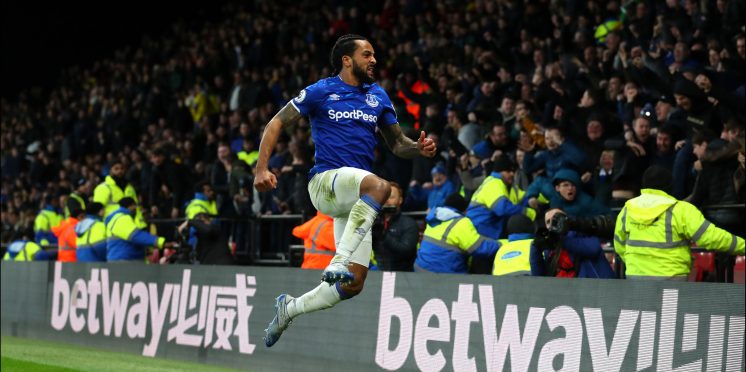 Theo Walcott helps launch Everton's Blue Family video series
Club to post regular videos for fans during coronavirus
Theo Walcott has produced a short fitness video to help supporters stay in condition during the coronavirus outbreak as part of Everton's Blue Family campaign.
The Everton forward demonstrates a series of simple exercises which can be performed at home – with the UK's population urged to remain indoors to contain the spread of coronavirus.
Walcott's two-minute film amounts to an all-body workout – and even shows how you can employ food tins to aid your routine.
He goes through drills designed to strengthen and mobilise the arms, legs and core, while including an element of cardiovascular fitness.
Follow Walcott's at-home programme here.
The video is the one of a number that will be released by the Club in the coming weeks, fronted by players and sports and wellbeing staff across the Club and its charity Everton in the Community.
Future content will include yoga, mindfulness and tips for staying active while at home.
The UK Government has closed gyms and leisure facilities and is "strongly advising" people to engage in "social distancing" as critical ways of combating coronavirus.
These measures encourage people to stay at home and when outdoors maintain a distance of at least two metres from others.
Exercising at home is the safest way to stay fit and as part of its Blue Family campaign, introduced to maintain and extend contact with supporters, Everton will offer help and guidance on workout routines during this period.
'Blue Family' is Everton's coordinated outreach and engagement campaign to maintain contact with fans and provide vital support and assistance to some of the most vulnerable, socially isolated and at-risk members of the community in the wake of the coronavirus pandemic.
The Club has provided £50,000 to fund the launch and initial activities and will be reallocating Club and Community staff to ensure the effective delivery of the campaign.
The 'Blue Family' campaign will maintain and extend the reach of the Club and the charity following the closure of all Club sites, the suspension of football fixtures and the postponement of most community programme delivery.
As part of the campaign, a number of fans have also received calls from players including Seamus Coleman and Moise Kean, and Assistant Manager Duncan Ferguson.
The far-reaching Blue Family activity includes:
Fans and members of the community in greatest need contacted by Everton in the Community staff to deliver tailored and focused support, assistance and guidance, including:

Essential food parcels distribution, including breakfast packs for young children
Financial assistance for prescription purchases and delivery
Mobile phone credit for those living alone and with limited support networks
Support with gas and/or electricity vouchers for those facing increased fuel bills
Mental health support and advice

A referral service for access to Everton in the Community's support provision
Calls from the Everton Fan Centre to thousands of fans to maintain contact and provide a friendly voice to talk to, prioritising the elderly and isolated
Increased communication through the Club's email, social media and web platforms to share important public information and deliver engaging content for those in isolation
Members of the public can donate to Blue Family here: https://www.evertonfc.com/bluefamily
---