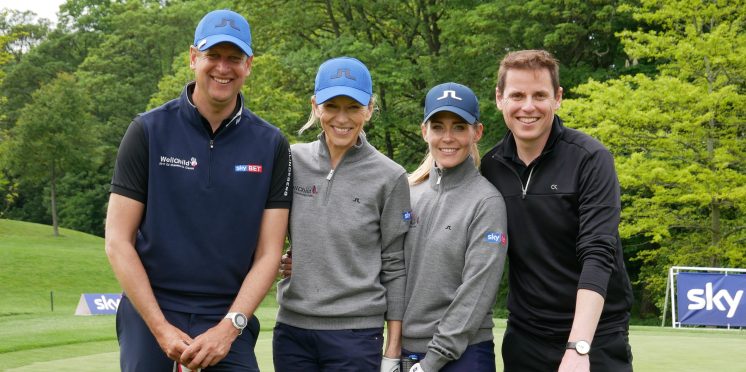 Ed Chamberlin Putting WellChild First
Television sports presenter Ed Chamberlin has announced a challenge to all keen golfers currently sitting at home with time to spare due to the Coronavirus crisis.
He is asking them to show their putting skills to help support WellChild, the national charity for seriously ill children, as they fight to carry on their work for children with complex needs and their families across the UK at this tough time. Already big names such as champion jockeys Frankie Dettori and Mick Fitzgerald have joined in alongside Ed.
Well known TV racing presenter Ed, who is the face of ITV Racing, hosts an annual golf day which has raise more than £250,000 for WellChild over the years. But due to the Coronavirus outbreak the Ed Chamberlin 2020 Golf Classic has had to be postponed so in its place Ed has announced #PUTTingWellChildFirst – an exciting and simple self-isolation golfing challenge on social media.
The postponement of WellChild's Ed Chamberlin golf day follows the cancellation of other fundraising events, collections and essential projects for the charity, which has had a huge impact on WellChild's income. It is a charity totally reliant on voluntary fundraising and almost 60% of its income comes from fundraising events alone.
Ed Chamberlin said: "This is such a difficult time, particularly for charities and that includes WellChild when you think that 60 per cent of their revenue comes from events like my golf day, the London Marathon and other events which are all being postponed or cancelled. It gives WellChild a big problem, we need to help them raise funds to nurse the sick and vulnerable children that they so heroically do."
"I'm asking golfers across the country to video themselves holing a putt, or even missing a putt, but it's got to be creative. It can be inside, outside, upside down – it needs to be fun and creative. Make a donation to WellChild and post your putt on social media with the hashtag #PUTTingWellChildFirst"
The rules of the #PUTTingWellChildFirst social media challenge are simple:
Take on the most creative or longest Putt possible in your current circumstances.
Film your putt, upload it to Facebook, Instagram or Twitter using the hashtag #PUTTingWellChildFirst
Donate to the WellChild Resilience Fund
Nominate friends by tagging them in your post.
For inspiration, golfers can check out Ed Chamberlin's elaborate putt at @EdChamberlin on Instagram, and @chamberlinsport on Twitter.
Donations can be made to WellChild's Resilience Fund by clicking here:
https://www.justgiving.com/campaign/WellChildResilienceFund
WellChild provides essential and practical support to ensure that the increasing number of seriously ill children and young people in the UK have the best chance to thrive – properly supported at home with their families.
The charity, which has HRH The Duke of Sussex as its Patron, provides a national network of children's nurses, who work with families to ensure that children with complex care needs can leave hospital and return home and, through its Helping Hands scheme, WellChild enlists the support of volunteers to tackle practical projects in the homes of children with serious health needs. Through its family training and support services, the charity ensures parents and carers are properly supported and empowered to care for their children safely at home.
---