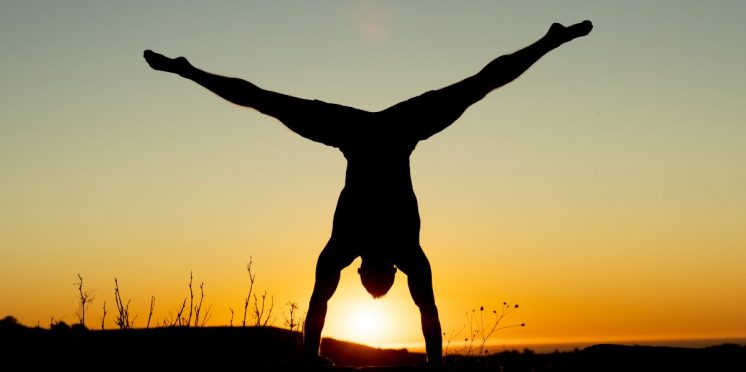 Handstand up to coronavirus with online challenge
Bodyweight training experts, the School of Calisthenics, have sent a rallying cry to people stuck at home during the coronavirus lockdown to take part in a handstand challenge in support of the incredible work of the NHS and the Robin Hood Fund.Launching today, Handstand Up To Corona is free to take part and encourages people of all ages and abilities to set themselves the goal of learning how to do a handstand whilst in isolation, or re-learning for those who were aces during their childhood.
To take part simply upload a photo of your handstand on social media using the hashtag #HandstandUpToCorona and challenge three others to do the same. Those taking part in the online challenge are also encouraged to set up their own fundraising pages using GoFundMe or JustGiving to contribute even more vital funds to the cause.
The School of Calisthenics will donate 10% of all proceeds from their Virtual Classroom sales throughout April to the Nottingham Hospitals Charity 'Help Our Hospital Heroes' emergency appeal and the Robin Hood Fund equally, in an effort to support vital work in their hometown of Nottingham.
In the past month alone the School of Calisthenics has experienced overwhelming demand for its online training programmes, with its Bodyweight Basics programme alone attracting an unprecedented 10,000 new sign ups in the last two weeks and going free of charge.In response, the School of Calisthenics is now offering 50% off membership to its Virtual Classroom for the month of April, including instant access to a huge range of bodyweight training programmes, including a step-by-step handstand training guide.
Tim Stevenson of the School of Calisthenics said, "As well as helping you to train at home, we want to do our bit to support those on the frontline working hard to save lives and those in need."The beauty of handstands is that you can train anywhere with no equipment – perfect in this locked down world we find ourselves living in. It's the ideal time to set a goal during this period of isolation to learn a new skill, move in a new way and have a lot of fun. Plus, you can get the kids to join in too."Proceeds from Handstand Up To Corona will go towards providing additional resources and services to support Nottingham's hospitals and its patients via the Nottingham Hospitals Charity, as well as helping the vulnerable and those in urgent need in Nottingham to cope with the impacts of the coronavirus via the newly launched Robin Hood Fund.
Louise Knight, Head of Fundraising at the Nottingham Hospitals Charity said, "We're delighted that the School of Calisthenics is leading a handstand challenge to raise money for the 'Help Our Hospital Heroes' appeal. What a unique and fun way to do it! The money raised through the 'Help Our Hospital Heroes' appeal will be used to provide everyday essentials such as food and toiletries for the staff, and wellbeing rooms to give the staff a place to stay. "During this difficult time it is brilliant to see local businesses coming together to support NHS staff at Nottingham's hospitals, who are there for them every day of the year." Simon Bristow from the Robin Hood Fund said, "The response we've seen to the Robin Hood Fund in such a short space of time has been amazing. We knew the people of Nottingham could rise to this challenge but they've already exceeded our expectations. To now see the business community in Nottingham also getting behind the campaign is great."We are incredibly thankful to the School of Calisthenics for thinking of our campaign and being so generous – we hope everyone in Nottingham, and beyond, gets involved with the Handstand Up To Corona challenge.
"For more information about the School of Calisthenics go to https://schoolofcalisthenics.com/, sign up to the Virtual Classroom here https://classroom.schoolofcalisthenics.com/
and show your support by posting your handstand on social media using the hashtag #HandstandUpToCorona
Twitter @schoolofcali
Instagram @schoolofcalisthenics
Facebook @SchoolofCalisthenics
To find out more about our chosen charities head to https://www.nottinghamhospitalscharity.org.uk/ and https://www.robinhoodfund.org/.
Nottingham-based sports apparel brand PlayerLayer has created a bespoke #HandstandUpToCorona t-shirt complete with upside down logo for just £10 each. All profits will go towards supporting the NHS. Grab yours now at https://playerlayer.com/handstand-up-to-corona
---