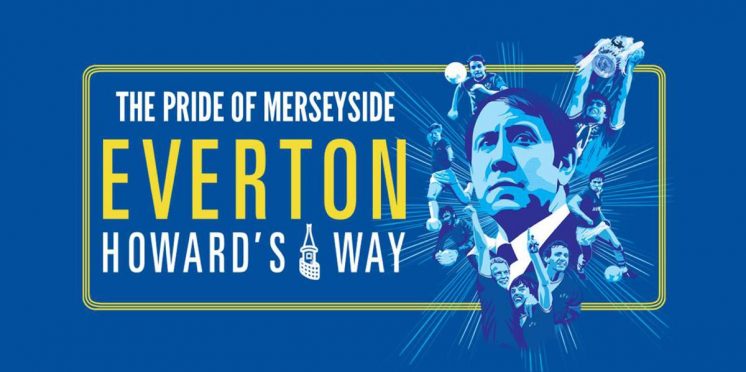 Blues fans invited to join Everton legends for 'Big Everton Night In'
Everton fans around the world are being invited to join legends from the Club's 1984-5 European Cup Winners' Cup side for a watch-along of Rob Sloman's hit film Everton: Howard's Way.
Blues supporters are invited to press play at 8pm GMT on Friday 24 April for the #TheBigEvertonNightIn and take to social media to discuss the film with four stars of the 1984-85 squad – Peter Reid, Kevin Sheedy, Trevor Steven and captain Kevin Ratcliffe, plus the film's Director Rob Sloman.
The date will be familiar to Evertonans as it also marks the 35th anniversary of one of Goodison Park's most famous nights – the iconic European semi-final victory over Bayern Munich on 24 April 1985.
Fans can follow @HowardsWayFilm and @RobSloman and use #TheBigEvertonNightIn #howardswayfilmwatchalong to take part.
Originally released in October 2019 to acclaim from both critics and fans, Everton: Howard's Way charts Everton's rise to become one of the best footballing sides in Europe in the mid-1980s. It tells the story through remarkable never-before-seen footage and the players who became household names under Everton's most successful ever manager Howard Kendall. 
Featuring names including Andy Gray, Kevin Ratcliffe, Peter Reid, Graeme Sharp and Neville Southall, Howard's Way is the tale of Kendall, a man with Everton in his blood, a team intent on greatness and a city united in defiance.
A special charity screening of the film in November 2019 at Liverpool's St George's Hall led to a memorable reunion of the European Cup-winning 1984-85 squad, while the soundtrack single Everton Together by The Toffee Collective and an album of music from and inspired by the film was released just in time for Christmas – with the album entering the iTunes soundtrack chart at number 2.
The nationwide lockdown was this week extended by the Government until at least 7 May, with the country instructed to stay at home to protect the NHS and save lives during the coronavirus crisis.
Everton and official charity Everton in the Community (EITC) launched their 'Blue Family', campaign last month to maintain contact with fans and provide support and assistance to the most vulnerable, socially isolated and 'at risk' members of society across Liverpool – and beyond – in the wake of the coronavirus pandemic. Donate to the Blue Family campaign and find out more here.
The Big Everton Night In is set to provide a timely opportunity for the Blue Family to unite and savour the story of one of the Club's greatest sides.
Fans can secure a copy of Howard's Way via any of the following links:

Download:
Sky: https://tinyurl.com/snkt2e2
Virgin: https://tinyurl.com/vroadqj
Amazon: https://tinyurl.com/w8oojte
iTunes: https://tinyurl.com/qkh6nga
DVD:
Amazon : http://amzn.to/2my6wDj
---