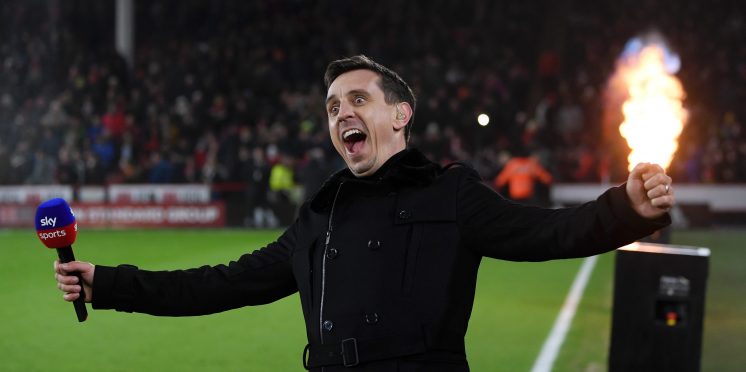 Gary Neville crowned the nation's favourite football analyst
Monday Night Football star Gary Neville has won Paddy Power's World Cup of Pundits – beating off competition from the likes of Roy Keane, Jamie Carragher, and Chris Kamara.
The former Manchester United captain was a convincing champion, as he emerged the winner of the 16-pundit competition, claiming 43% of the votes in the final.
The tournament was decided by a series of Twitter polls, with Neville, Keane, Kamara, and Carragher reaching the final after winning their groups.
That meant an all-Sky line-up in the final, with BBC favourites such as Ian Wright, Alan Shearer, and Alex Scott falling in the group stages.
Spokesman Paddy Power said: "The tension was high in our World Cup of Pundits – a bit like the environment in the Sky studio when Graeme Souness is reviewing a Paul Pogba performance.
"Gary Neville being the nation's darling, who would've thought it? And Chris Kamara classed as a pundit – strange world."
WORLD CUP OF PUNDITS CLASSIFIED RESULTS
GROUP A (5,785 votes)
Gary Neville – 77.1%
Ian Wright – 13.7%
Jamie Redknapp – 6.3%
Michael Owen – 2.9%
GROUP B (7,043 votes)
Jamie Carragher – 57.6%
Alan Shearer – 16.7%
Alan Hansen – 13.4%G
Graeme Souness – 12.2%
GROUP C (7,076 votes)
Roy Keane – 59.4%
Peter Crouch – 24.6%
Andy Gray – 10.4%Jermaine Jenas – 5.6%
GROUP D (4,507 votes)
Chris Kamara – 51.8%
Eamon Dunphy – 26.1%
Alex Scott – 17.3%
Robbie Savage – 4.9%
FINAL (6,552 votes)
Gary Neville – 43.3%
Roy Keane – 26.6%
Jamie Carragher – 15.6%
Chris Kamara – 14.4%
---