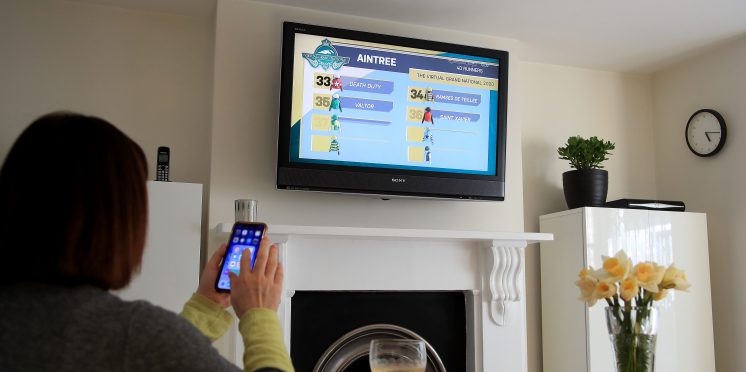 The virtual Grand National has given sports' fans an appetite for animation
On April 4th, ITV broadcast the 2020 Virtual Grand National with Potters Corner winning at odds of 18-1. Although this version of the Aintree spectacular is unlikely to ever replace the real thing in many people's eyes, it still managed to pull in a peak audience of 4.8million viewers, equivalent to 30% of the television audience. With so many distractions in this day and age, this remarkable figure helped prove that there is a clear appetite for CGI sporting events. Having raised £2.6million for the NHS Charities Together, this virtual event was considered to be a resounding success, and it may just have made other sporting bodies sit up and take notice of this rapidly growing trend.
NBC will be hoping for a similar amount of traction when they air the inaugural virtual Kentucky Derby at the beginning of May. The contest will feature 13 former triple crown winners, and that is likely to help attract legions of racing fans who are undoubtedly looking forward to seeing iconic thoroughbreds such as American Pharaoh return to Churchill Downs. Despite this, horse racing is still taking place in North America with the likes of Fonner Park, Gulfstream Park and Will Rogers' Downs all hosting regular race-days. Bettors are able to check the latest racing results from Nebraska, Florida and Oklahoma on a daily basis; however, a number of high-profile events such as the Kentucky Derby will not be taking place in 2020. The virtual equivalent will hopefully go some way to helping fill that void.
It isn't just horse racing that has turned its attention to the world of virtual sports with NASCAR also embracing technology in order to help keep the show on the road. They've teamed up with iRacing, a subscription simulator, to help create the eNASCAR iRacing Pro Invitational. This exhibition series will feature a number of the sport's top competitors with the likes of William Byron and Jeff Gordon all getting involved in recent weeks.
Many UK football clubs have also turned their attention to the online world, opting to take part in a ground-breaking new tournament which is set to take place throughout April and May. The FIFA20 eSports tournament will feature many professional footballers including Wilfried Zaha, Trent Alexander-Arnold and Raheem Sterling, whilst musician Tom Grennan has been chosen to represent Manchester United. Sky Sports have also jumped on the bandwagon and will be broadcasting the majority of these fixtures. The tournament has captured the imagination of football fans, who have also been able to bet on the outcome of the tournament with some betting companies. The MLS has also followed suit, with many of their scheduled fixtures taking place in virtual form over the last couple of months
Major League Rugby, IndyCar, NBA and Formula 1 have also dabbled in the world of virtual sports, with the latter opting to host its inaugural eSports Grand Prix later this year. The entire eSports genre is growing exponentially month-on-month, and although traditional titles such as DOTA2 and League of Legends remain extremely popular with gamers, there is undoubtedly a growing appetite for recreating sporting occasions.
Although it is unlikely to ever surpass the popularity of actual sport, there is clearly a growing hunger for virtual events, and many more sporting organisations are likely to further increase their offerings in the coming months. It has given fans the opportunity to enjoy their favourite events from the comfort of their own home, as well as being able to follow the travails of some of sport's most iconic participants. The sporting landscape is constantly ev0lving, and the recent growth of eSports is certainly helping to facilitate a new way of watching top-class competitive action.
---