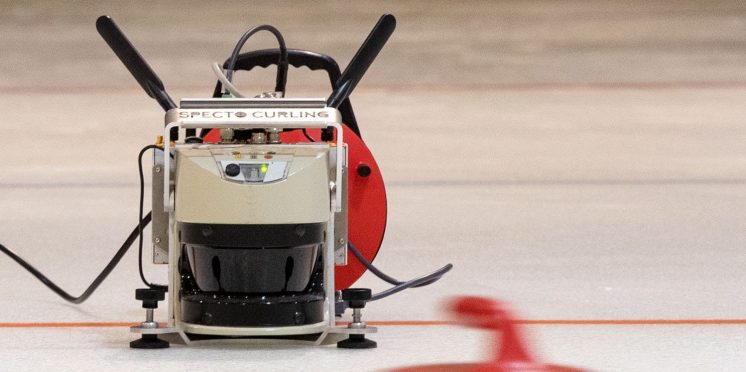 SPECTO Curling® – gives insight what happens on the ice
A Finnish sports technology Angular Velocity has released a groundbreaking sports tracking system for curling. SPECTO Curling® belongs to their SPECTO Sports® line of products of which SPECTO Bowling® has already took over the bowling centers around the world.
SPECTO Sports® technology measures sports without any contact or extra equipments attached to athletes or objects. For curling SPECTO Curling® gives a breath of technological air for curling. There is no similar tracking system providing accurate and real-time results with rapid installment.
– The release of SPECTO Curling® to the market is an important step in strengthening and complementing the vision and strategy of Angular Velocity to provide accurate, real-time results for a wide variety of sports, says Kristian Törnqvist, CEO of Angular Velocity.
Törnqvist has high expectations for the newest product of SPECTO Sports®. The main market area for SPECTO Curling® is Canada, but the ambition of Angular Velocity is worldwide.
– We expect that SPECTO Curling® will be well received by the market and provide the sport with cutting-edge technology to make it both more attractive for a wider clientele but also keep the already active community engaged and committed.
Valid data with little effortOne of the SPECTO Curling® developers is Markku Uusipaavalniemi, a Finnish olympic silver medalist in curling known as M15. He says that SPECTO Curling® shows what happens with the stones on the ice.
– SPECTO Curling® offers significantly more information about what happens with the stones on the ice. There is no other system which gives us as much valid data about the stones and the ice with so little effort. For top players it is huge advantage to get data about the stones easier, faster and more confidently than before, clarifies Markku Uusipaavalniemi.
SPECTO Curling® is based on Angular Velocitys's patented LIDAR based tracking system for analysing sports performance, in curling that means for example stones and throwing techniques. SPECTO measures the speed and position of the stone at any point on the curling sheet with one sensor. The trajectory of the stone can be monitored live or replayed later on screen.
Data can be stored and replayed later or exported for long-term analysis purposes.
Fast and easy way to analyzeSPECTO Curling® provides data for players, coaches and hopefully in near future also spectators. Uusipaavalniemi trusts that SPECTO Curling® has lots to offer for players on all levels. Players and teams can analyze for example deliveries and use the data to match the stone position with other players in the team. Initial speed and line of throw will be seen immediately after the delivery. The players' ability to read the ice and stones can be also tested and improved with data from SPECTO Curling®.
– This is very fast and easy way to analyze and help to improve your special skills in curling. With only one sensor at the curling club you can offer lots of possibilities to all members of the club. With SPECTO Curling® you can practice without coach or even alone and still get great feedback. And if you just want to have quick throwing practice, the ice doesn't have to be prepared top quality because from SPECTO Curling® data you'll see the throwing line and speed right after your delivery anyways.
Permanent and portable versionsSPECTO Bowling® has raised the numbers of people watching bowling after FOX Sports started to use SPECTO data in PBA tour broadcasting. Kristian Törnqvist sees similar opportunities for curling.
– We will be looking at opportunities for curling similar to what we did for the PBA tour and FOX Sports in bowling. As for major competition use, we will be working together with the main organizations for the sport to make sure to share our vision on how to make curling even more appealing. Curling is such great fun, easy to get started, difficult to master.
SPECTO Curling® is designed from the ground up for ease-of-use, speedy setup and data accessibility. It can be used either with regular AC power or with the optional battery pack. The ultra-portable battery pack equipped version can be used at any venue and any sheet without the hassle of trying to pull cables making it ideal for the player or coach that wishes to use it in multiple venues with a minimum of fuss.
The optional battery pack offers around 4 hrs of continuous running time on one charge. As a release special, Angular Velocity is for a limited time, offering the complete system with the battery pack option for the price of the regular system that requires AC power.
SPECTO Curling® is ready to accept orders and the deliveries are expected to begin soon.
---