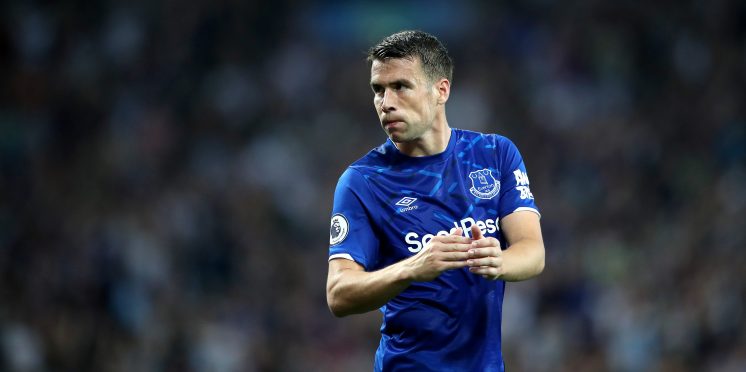 Coleman and ex-pros give a 'team talk' on mental health
Football might be off at the moment, but that hasn't stopped some of the UK's top names in football teaming up to help us all look out for one another.
Speaking in a series of social posts, Stuart Pearce, Chris Hughton, Marvin Sordell and Everton FC's Seamus Coleman and Simone Magill, will be giving advice from their dressing room know-how on supporting your mates, and even your mate's mates – particularly at a time when it's more important than ever to look out for each other. The campaign is supported by the League Managers Association (LMA) and Everton FC, and will continue to feature a host of other current and ex-players with extensive team talk experience.
At a time when football is postponed and pubs are closed, connecting with family and friends is more difficult than ever. Feelings of loneliness and isolation amongst men have increased – CALM has seen record demand for its helpline services since lockdown – as the shared passion for watching and playing the game, along with social time with mates, is currently absent.
Carling is working with CALM, the charity leading a movement against suicide, to launch their first campaign in a three-year partnership: Caring TeamTalks. With the help of some familiar faces, TeamTalks will look to tackle the stigma surrounding mental health by using our shared love of football to help normalise what might feel like tricky conversations about our feelings.
The campaign also features a powerful message from legendary former England international, Terry Butcher, who gives a personal account of his own son's struggles with Post-Traumatic Stress Disorder (PTSD) and the importance of seeking help when you need it. The message is a reminder of the vital role charities like CALM play in providing expert support to people struggling across the UK.
Advice from team talkers:
We win, lose or draw as a team – whatever the result we analyse every part of the game together, working out where it went right or wrong. The manager always has a view, but deep down the players know who needs picking up, who needs challenging and who needs an arm around their shoulder. Carling and CALM's advice from managers and team talkers:
Remember all squads are different – the mates, family and people around you who make up your squad all have different needs, and nobody knows them better than you… just spot the signs
One Team – the only way to get through tough games is by standing together – that is more important now than ever before
Listen – the quiet ones often have the most to say, make sure you include them and see how they are doing
Know when you or somebody else needs help – if you or one of your squad is struggling then get the support that they need. CALM is here to help.

Manned by professionally trained staff, CALM's vital helpline services are available from 5pm to midnight, seven days a week. Providing practical, anonymous and non-judgemental support and advice, whatever you're going through. And now men across the UK can access the Caring content for support too at www.thecalmzone.net/caring-teamtalks.
---