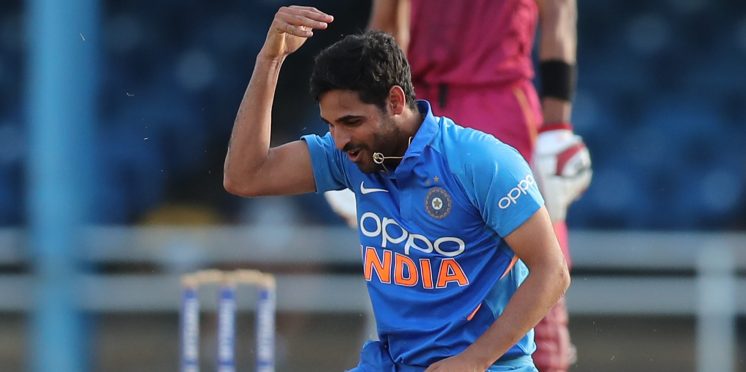 Bhuvneshwar Shares His Views on India's Loss in Knockouts of ICC Tour
India pace bowler Bhuvneshwar Kumar has recently shared India's recent record in ICC tournaments, citing that their struggles in knockout stages reduce their efforts and dominance in the rest of the games in the events. India last won an ICC event way back in 2013 in the Champions Trophy when they beat England in the final. Since then, they've reached the semifinal in World Cups during 2015, 2019, and World T20 2016 as well and lost in the final in the T20 World Cup 2014 and Champions Trophy 2017 too.
"The last we won was the Champions Trophy in 2013. And since then, there have been only 3-4 ICC tournaments and we have made it to the semis or the finals about 2-3 times," Bhuvneshwar told ESPNcricinfo's Cricketbaazi. "In 2015 World Cup we lost to Australia in the semi-final. And in the 2019 World Cup, it was bad luck. An early loss of three top-order batsmen cost us the game. It rarely happens that in a match after dismissing the opposition for, under 250, you are get bowled out."
"In that entire World Cup, Rohit Sharma had scored five or six centuries, K.L. Rahul was in good form, Virat Kohli played as always and we had MS Dhoni as well in the team. Even in the 2017 Champions Trophy final, things changed after Jasprit Bumrah's no-ball," he shared.
While talking about his bowling, Bhuvneshwar Kumar said that he tries to detach himself from match results just like former India captain MS Dhoni. He also shared that this process helps in getting the desired outcome as well. He also shared that he narrows down on one option while starting his run-up, and he usually doesn't change it.
Moreover, he said that in international cricket, everyone knows their strengths and weaknesses of the opposition batsmen and he also revealed that he keeps thinking about the process and how to dismiss any batsman through his weakness which helps him execute his plan as well.
---