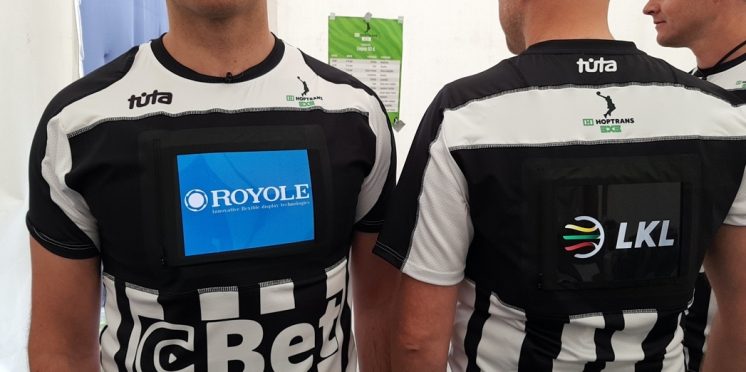 Royole partners with TUTA in world's first wearable display
Royole's fully flexible displays are being used in return to live FIBA Basketball tournaments
Royole Corporation ("Royole", "Company"), a pioneer and the global leader in the flexible technology industry, has partnered with sports clothing manufacturer Tūta, to produce the first fully flexible and wearable display advertising in live sport. In the long-awaited return to live basketball, all referees during the official FIBA (International Basketball Federation) Hoptrans 3×3 tournament running through July will be wearing a Royole fully flexible display.
The first part of Hoptran 3×3 tournament was live on July 3rd in Lithuania, 4 referees were wearing the fully flexible display on their T-shirt, showing logos of the sponsors for the tournament. With an audience of more than 50 million watching the game live or through FIBA Livestream, this marked the first time that flexible and wearable displays were used in live sport for advertisement.
The fully flexible display is extremely thin and light at only 85g and 7.8 inches, making it unnoticeable for the referees wearing them, while the content on the flexible displays can be operated by an app and the images or videos can be changed throughout if needed.
Since developing the world's thinnest flexible display (0.01mm) in 2012, Royole has gained a reputation for constantly pushing the boundaries of what's possible in flexible displays and sensors. This partnership is a significant moment in the world for both flexible technology and advertising. After the first game with referees demonstrating the flexible displays as wearables, this is a proof point of how to introduce dynamic, rich video advertising to an area where static logos and branding have only previously been possible, it unlocks a number of opportunities and provides a vision into the future of advertising.
Valentinas Navikauskas, the CEO of Tūta, said: "We looked to partner with Royole for this because we wanted the best flexible displays on the market. The partnership has been growing over a number of years and we've seen the flexible displays perform incredibly well being implemented with what the referees are wearing. The fact that they can use this revolutionary technology and place it into the referee's shirt whilst keeping it lightweight and cool to wear shows the significane of using flexible display and proves they are the leader in their industry."
Dr Bill Liu, Chairman and CEO of Royole, said: "This is an important moment not just for flexible technology but also for advertising in live sport. The future of advertising is now wearable and with a return to live sport after such a long absence, this partnership represents a significant vision into what the future will hold. Our ultra-thin, fully flexible displays are robust and efficient, making them perfectly fit for wearable products."
---