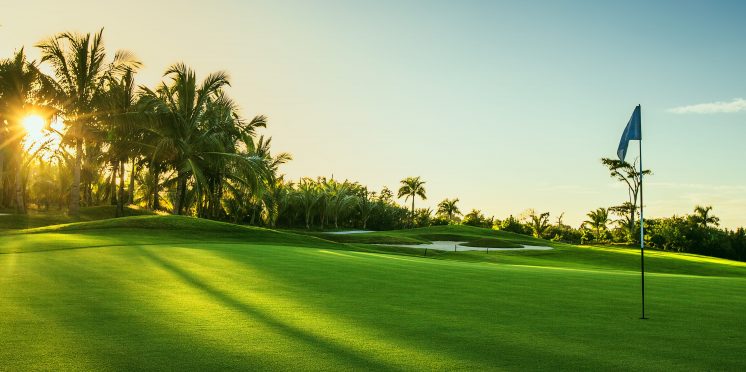 Five Ways Par 3 Golf Courses Sharpen Your Game
If you're an avid golfer, we're sure you've spent hours on the driving range trying to find the perfect driver swing. Hopefully, you have spent time on the practice green working on your putting stroke. It's great to play 18 holes, but we all know the pain of a 5 and ½ hour round.
Is there an alternative? Is there a way to both practice your game, and enjoy trying to make some birdies? The answer is par 3 golf courses. Par 3 golf courses are typically between 9 & 18 holes and often only require your short irons plus your putter. The average golfer loses most of their strokes from 125 yards and in, so the par 3 course is the perfect way to improve a trouble area and lower your handicap.
Do you have a par 3 course in your area? We bet you've never checked, but they're typically near a resort or a public driving range. Do a quick search and we're sure you will find one within 20 minutes of where you live. Now that you have found a par 3 course, let's explore the top 5 ways they'll make you a better player.
How Par 3 Golf Courses Sharpen Your Game
There are numerous advantages to playing a par 3 golf course, but we'll start with how it can sharpen your golf game and improve your scoring.
Putting With Pressure
The largest difference between amateur golfers (high handicappers), and professionals/scratch golfers is consistent putting. You can work on your stroke on the practice green, but there's no pressure. On the practice green you don't care if you make or miss a putt.
A par 3 course is the perfect way to work on your putting with the pressure you feel when trying to shoot a score. If you hit the green, you still get to grind over a birdie putt. If you miss the green, you feel the sensation of trying to make that 10-foot par saver. Practicing under these conditions will improve your putting the next time you tee it up on a full length course.
Learn To Stick Your Short Irons
When you play a par 3 golf course, most tee shots will be a wedge, 9-iron, or 8-iron. This will give you extra repetitions on these critical scoring clubs. You can shave strokes off your scorecard if you learn to stuff these shots close to the pin. Use a par 3 golf course to develop different shots. Can you hit a knockdown pitching wedge or a cut 9-iron? Can you get your sand wedge to land on the green and spin back like a pro?
Miss a Green? Chip it Close
Par 3 golf is all about your short game. Can you hit a short iron close? Can you make the birdie putt? What happens when you miss the green on a par 3 course? You get opportunities to work on your chipping. Try different shots – flop or bump-and-run. It's a great feeling to get up and down to save par, and do you know the best way to make more of those par putts? Chip it closer to the hole. A par 3 golf course simulates your experience on a full length course. You're forced to hit shots from different lies and different conditions.
Become a Bunker Master
Once you reach the green on a par 3 course, it's the same as a full length course, and that means you'll have to deal with greenside sand traps. Do you get scared every time your balls ends up in the sand? Gain confidence from the bunker during your next trip to a par 3 golf course. Just remember, open your stance, open the face of your club, and hit 1-inch behind the ball. Splash it on to the green. Now go save par.
Sharpen Your Strategic Game
Your score on a hole is often impacted by decisions you make prior to ever hitting the ball. Unlike the driving range, a par 3 golf course allows you to improve this critical skill. Should you aim at the middle of the green or go pin hunting? Should you hit the hard pitching wedge or try a knockdown 9-iron? Better strategy on the course will lead to lower scores and you will start to see your handicap decrease.
Other Benefits of Playing Par 3 Golf
Outside of improving your golf game, the par 3 golf course has additional benefits as well. First, the time investment is much less. With your busy schedule, it can be hard to carve out 5+ hours on the weekend to play, but you can complete a par 3 course in under 90 minutes. Get the enjoyment of playing 18 and trying to shoot a low score, in less than half the time.
A par 3 golf course is much easier to walk. You can avoid the cost of renting a cart and get some exercise on a nice afternoon. Not only is the course shorter, but you don't need all of your clubs, making it possible for all golfers to enjoy a stroll. More fresh air and physical activity is a good idea for all of us.
Are you interested in getting your kids involved in the game? A par 3 course is perfect for junior golfers. They can learn the critical short game skills and fall in love with the game. Since a par 3 is short, even young children can play the holes and have a chance to make a par. Just don't be surprised if they hit their driver inside your wedge shot! The best way to teach them is start with the driving range and putting green, then let them get used to playing on a par 3 course, and once they are comfortable, try a full length course.
If you enjoy the game, we are sure you know it can be an expensive activity. A par 3 golf course will cost you a fraction of what you would pay to play a full length course. Save time and money.
And finally, what is the most exciting moment for an avid golfer? It has to be making a hole-in-one! When you play a par 3 course every hole gives you a shot at glory! Sure, the odds are still long that you will make one, but getting 18 chances is better than just 4 on a normal course. If you do happen to make one, you will remember it forever and you won't even mind buying drinks for your friends. You will probably bore these same friends talking about it for years to come.
Best Golfing Gear for Par 3 Courses
For the most part you'll leverage the same gear you use for a full length course, just less. Of course, you'll need the essentials; golf balls, tees, gloves, etc. Instead of all 14 clubs, you'll most likely only need 4-6. We would recommend you bring your 7-iron, 8-iron, 9-iron, Pitching Wedge, Sand Wedge, and putter. This combination will work for most par 3 golf courses, but you should always research the yardage of the holes before heading out.
The only unique item you might want to consider is a golf bag. Sure you can use your existing bag, but you will be carrying around unnecessary weight. Did you know there are bags specifically designed for par 3 courses and driving range practice? They're smaller, lighter, and referred to as Sunday golf bags.
A Sunday golf bag is a great addition to your gear. Regardless if you're playing a par 3 course, or simply heading to the range it improves your experience.
Conclusion
Par 3 golf courses can be the best of both worlds. You save time and money, while becoming a better player. In the same amount of time it would take you to hit a large bucket of range balls, you can work on your iron play, your short game and get the satisfaction of making some birdies and pars. It is always fun to see the ball fall in the hole.
The next time you have a couple hours and want to relax while hitting some golf shots, throw a handful of clubs in your Sunday golf bag, call a friend, and head out to your local par 3 golf course. You never know – maybe today is the day you make your first hole-in-one and if that doesn't happen, you still got some exercise and enjoyed time with your buddies.
---