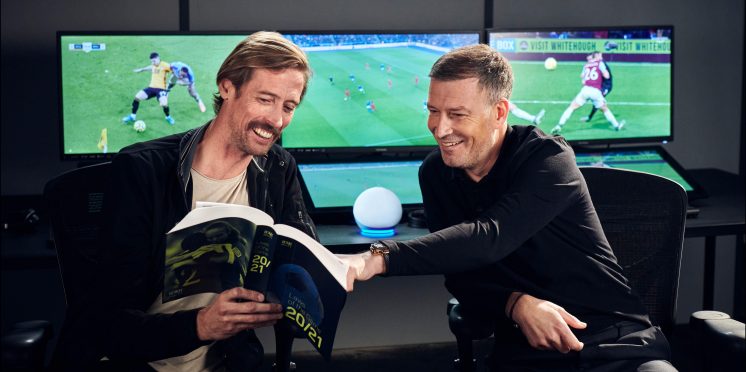 "Alexa, Explain the Handball Rule":
Amazon's Alexa Becomes World's First 'Voice Assistant Referee' for Upcoming Prime Video Premier League Matches
Amazon's Alexa has learnt the official laws of the game for the most misunderstood rules in football to help fans get a better grip on the beautiful game
VARlexa – the world's first Voice Assistant Referee – is launched as a new survey of 2,000 football fans reveals that two thirds concede to not fully understanding the rules of the game
Fans can ask Alexa for the IFAB (International Football Association Board) Laws of the Game to receive instant assistance on the official rules as they watch Amazon Prime Video's expanded festive fixture schedule this December, including Liverpool v Spurs on December 15th
Prime Video pundits, Mark Clattenburg and Peter Crouch, have tested Alexa's knowledge in hilarious new video: View Here
Amazon's Alexa is always getting smarter and, with Premier League football returning to Amazon Prime Video with an expanded festive fixture schedule, Alexa has swatted up on the official rules of the beautiful game to help football fans across the UK.
The VARlexa feature – the world's first Voice Assistant Referee – has been created so that football fans with Alexa-enabled devices can ask for the official IFAB (International Football Association Board) Laws of the Game, across a number of football's most misunderstood rules. The feature becomes the latest addition to Prime Video's Premier League viewing experience and will be available across all Alexa-enabled devices, including Fire TV, for the forthcoming Prime Video Premier League fixtures, starting this Sunday with Leicester City v Brighton, and incorporates two full fixture rounds, meaning every Premier League fan will get to watch their team twice on Prime Video.
This latest innovation arrives in response to a new study of 2,000 football fans by Prime Video, which concludes that the nation could use some help in understanding these laws, including handball, offside and red cards for tackles.
Two thirds (66%) of those surveyed admitted to not fully understanding rules of the game, with four out of five fans (82%) declaring that they would enjoy the game more if they were better clued-up on the official laws. When fans were asked if they would gain any advantage by having instant and reliable access to the official rules during live matches, an overwhelming majority (85%) said yes.
The VARlexa feature launches today and will be available at any time to help fans understand the rules of the game. Fans will be able to use the new innovation to tackle their misconceptions head-on, receiving on-the-spot guidance, by simply asking Alexa:
"Alexa, explain the offside rule"
"Alexa, explain the handball rule"
"Alexa, does a high-footed tackle always get a red card?"
"Alexa, explain the rule of playing advantage"
"Alexa, what's an indirect / direct free kick?"
"Alexa, why are penalties retaken?"
"Alexa, has the handball rule changed?"
"Alexa, if the ball accidentally hits the arm, is it handball?"
"Alexa, what part of the arm is handball?"
"Alexa, what's an offside position?"
"By teaming up Alexa with experts in the laws of the beautiful game, we're giving fans instant assistance on the official rules as they watch Premier League football on Prime Video – by simply using their voice," said Eric King, Director of Alexa Europe. "By increasing Alexa's sporting knowledge, we continue our aim to make customers' lives easier by keeping them up to speed with the latest information using voice-technology."
As part of Alexa's ongoing training and development, former Premier League official and current Prime Video refereeing pundit, Mark Clattenburg, reunited off-the-field with ex-England striker and Prime Video pundit, Peter Crouch, to put the VARlexa feature through its final paces. Widely regarded as an expert in his field, Clattenburg was enlisted for his elite officiating experience and to transfer his knowledge of the official rules to Alexa. View and embed video here: https://youtu.be/etcJoa_7dCA
The secret session sees the duo studying a selection of contentious incidents, putting Alexa (and Crouch's) knowledge of the game to the ultimate test.
Football fans can also ask Alexa for more information on Premier League football, including live scores, matchday squad information and details on who's topping the league table or facing relegation. For some added fun, fans can throw-in some additional questions to find out which football team Alexa supports or who Alexa's refereeing hero is.
---