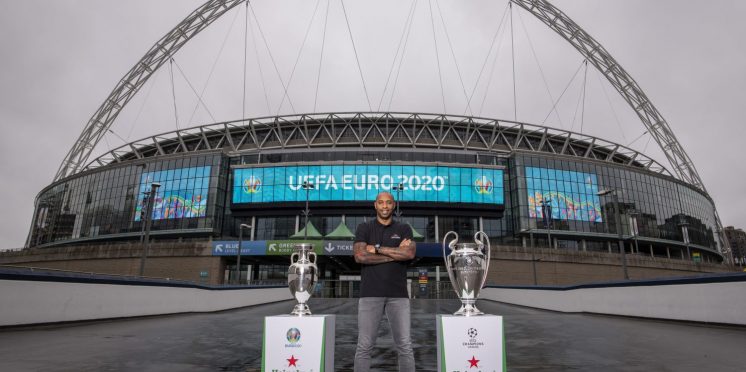 Euro 2020 – A thoroughly English affair
Euro 2020 (and yes like Tokyo 2020, it is retaining its original name) will finally go ahead a year later than planned in the summer of 2021, but the big question is where? The original format, planned to coincide with the 60th anniversary of the Soviet Union winning the inaugural European Nations' Cup in Paris in the summer of 1960, was a festival of football played in 12 countries spread across the continent from the Republic of Ireland to Azerbaijan.
However, with the fall out from the COVID 19 pandemic still wreaking havoc throughout the continent of Europe and beyond that grandiose plan seems destined to be revised and a single country given the task/honour of staging every group and every match.
UEFA are looking at all options, but as we stand England with its established infrastructure and hugely successful vaccine programme, seems the only real player in town.
It's something that could really help England's chances at the tournament, particularly if crowds are able to attend the games. Blighty has twice hosted an international tournament and each time it's seen England have a deep run in the tournament, winning the 1966 World Cup and making it to the semi-final of Euro 96.
And the thing is that England are already tipped for success at the latest Euros, with gambling sites and online casinos making them the favourites ahead of kick off on the 11th June:
Mr Green: England (9/2); Belgium (11/2); France (6/1)
32Red: England (9/2); Belgium (11/2); France (6/1)
Bet365: England (5/1); Belgium (11/2); France (6/1)
Much can change between now and the final of Euro 2020. Players can gain and lose form, return to fitness and pick up injuries. All of these things (and more) are taken into account when determining the odds for the tournament. This is why we advise visiting the leading online casinos between now and the kick off if you want an up-to-date picture of England's chances of winning Euro 2020.
Previous World Cups and Euros have shown that the hosts often improve upon pre-tournament expectations. England are already considered the favourites. This means they can't improve on this but hosting Euro 2020 could give them an extra boost and enhance their chances of emerging victorious.
So, how would England hosting Euro 2020 work? Sportsvibe has taken a look at the options and working on the assumption that the timings remain the same has come up with the following plan and related schedule:
Firstly the venues, with the first stadium of the pair designated as the 'home' venue:
North East England: – St James Park, Newcastle and The Stadium of Light, Sunderland
North West England: – Old Trafford, Manchester and Anfield, Liverpool
Northern England: – Hillsborough and Bramall Lane, Sheffield
The Midlands: – Villa Park and St Andrews, Birmingham
London 1: – Wembley and The Emirates Stadium
London 2: – The London Stadium and The Tottenham Stadium
Each group would be based in one of the six pairs of stadia with group matches following the same structure and schedule as under the current format. For example, if Group A was allocated to The Midlands, the games would run as follows (all KO time are BST):
11th June – Italy v Turkey, Villa Park: KO 2000
12th June – Wales v Switzerland, St Andrews: KO 1400
16th June – Turkey v Wales, St Andrews: KO 1700
16th June – Italy v Switzerland, Villa Park: KO 2000
20th June – Italy v Wales, Villa Park: KO 1700
20th June – Switzerland v Turkey: KO 1700
The actual matching of Groups and venues could be either drawn randomly or allocated by UEFA, but it would be extremely unlikely to see Group D (England and Scotland) taking place anywhere except London 1.
In order to maintain the levels of COVID protection demanded for players, officials and fans alike the Round of 16 and quarter final knockout stages would then be spread evenly across the 12 nominated stadia with the winner of each group playing at their 'home' venue in R16 and the Semi-Finals and Final remaining at Wembley as currently scheduled.
This may not be a perfect solution and fans of clubs such as Leeds United and Southampton may feel aggrieved at missing out on matches being played at their grounds, but we are not living in a perfect world and this is one way that a safe and successful tournament can be held this summer.
---