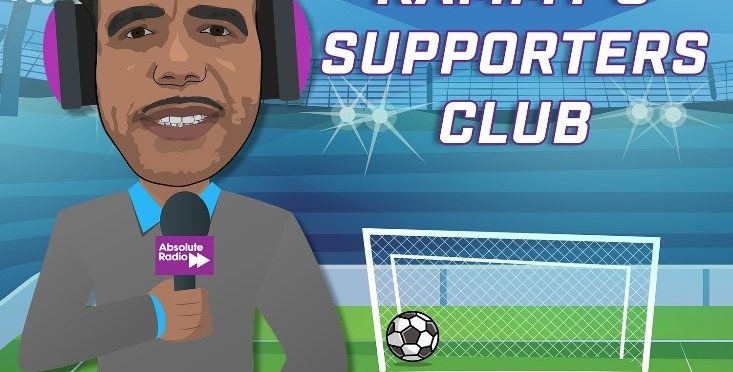 This June ahead of the Euros, one of football's best loved voices, Chris Kamara, will be launching his own podcast on Absolute Radio from Tuesday 1st June.
Kammy's Supporters Club features a different famous football fan each week, talking about their love for the game and the music that's sound tracked their support for the team they love.
With nothing off the table, everyone's favourite football pundit celebrates the unconditional and lasting love we have for our clubs. Each guest joining Chris will share five chosen songs, that have accompanied their lives as footy fans and reveal what they feel when they hear those tracks.
Chris said "Well, hopefully it's a whole new concept in the podcast world. Famous football fans talking about their team that they love, and the music associated with their time as a fan of the club they love. It's just going to be unbelievable."
Some of the guests for the eight-part series include Manchester City fan Jason Manford, Newcastle United fan Gabby Logan, Chelsea supporter Omid Djalili and lifetime Everton fan Tony Bellew. The series starts with West Ham supporter Ben Shephard, who chose tracks from Oasis, The Beatles, Coldplay, Tomoyasu Hotei and even snuck in a little Britney. Some of his quotes from the episode are highlighted below.
Ben talking about how he became a football fan "It was mostly when I changed schools at 11 that I started playing a lot of football at school. And it was the playing of football more than the watching initially that I absolutely loved. And then once I changed schools all my mates were big West Ham fans. And they were the first people that took me to see a live football match. 'Cause my family were more rugby than football and not really interested. And you only have to walk into your first football stadium once and you're smitten."
Ben describing his first trip to see West Ham "Getting out at the station and walking down Green Street and just being overwhelmed by the number of people. Like, I'd been to Twickenham once or twice. But it's a very different atmosphere. It was a really febrile atmosphere going down Green Street. And I was with one of my friends and my friend's dad 'cause we were still quite young at the time. And just the energy around the place, that and the noises. The environment was so full on and I had these big wide eyes. And I was sort of lapping up every single moment of it. And then I just remember going into the stadium and then just the swell of noise, and the crowd, and the sound and the energy. And that collective spirit that you get. That collective energy was like a rush I've never experienced. And ever rarely have I experienced anywhere else."
Ben discussing the team this season and the impact of David Moyes "I watched the games with my friends. We sort of go on zoom and there's all four or five of us on there watching it. And it's been an absolute joy to watch us play football. Really exciting football. Playing football out from the back. Defensively the structure's been brilliant as well. So even when we're under pressure we're absorbing' that pressure and we weren't panicking like we always used to panic. You know, as West Ham fans you'd sort of panic as soon as the pressure came on the defence 'cause you weren't sure exactly how organised we'd be. But that's what David Moyes has made us. He's made us really organised and hard to beat."
Kammy's Supporters Club is produced with Audio Always with Dave Masterman as Executive Producer and Ben Cartwright as producer.
Alongside the podcast Chris will also be joining Dave Berry on his Breakfast show and Bush and Richie's Hometime show to add the funny to the football in the build-up and during the Euros tournament.
'Kammy's Supporters Club' kicks off from 1st June. Listen and download on Amazon Music, Spotify, Apple Podcasts, Google Podcasts and all mainstream podcast providers.
---