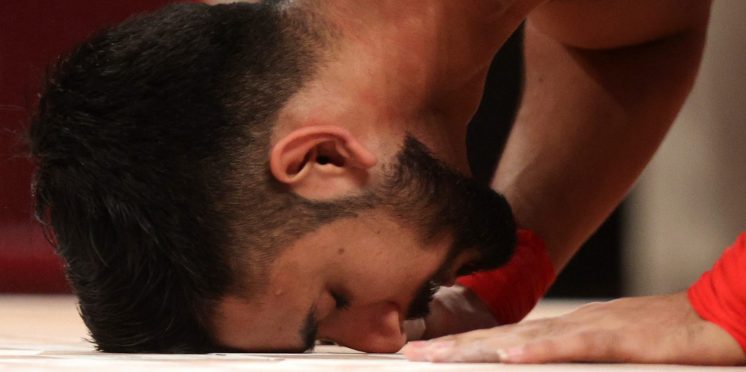 Weightlifter who missed the gold medal
The Olympics is surely one of the biggest events in sports. Athletes from all parts of the world participate in this event. Every athlete desire to win a gold medal for his country and proudly wrap his national flag around him. Weightlifter Talha Talib in Olympics this year was also no exception. Talha Talib's Excellence in the Tokyo Olympics 2020 has made every Pakistani proud. See what he did which made every Pakistani Proud in this Article.
Without any resources and monetary support, Talha Talib not only took part in the Olympics but also reached the final round As soon as Talha Talib started competing in the final round, he became the top Twitter trend in Pakistan. All eyes were on him. Hence, the Pakistani media started reporting the headline that a potential medal is on its way. But unluckily, he could not win the medal in the end and finished 5th. However, the courage and determination he showed in this event have amazed every Pakistani.
Without resources, the 21-year-old has managed to reach and participate in the final of weightlifting.
The winner of the 67 kg weight category are:
China's Lijun Chen won the gold medal in the 67 kg weight category. He lifted 332 Kg total weight. Colombia' Luis Javier Mosquera Lozano won silver medal. He lifted a total of 331 Kg weight. Italy's Mirko Zani won the bronze medal. He lifted 322 Kg weight in total. So, it was a tough competition to win.
Moreover, the total weight Talha Talib lifted was 320 Kg. But still, the fifth spot is impressive taking into account that he had no resources. So, every Pakistani should support him.
Who is Talha Talib | A Hero who narrowly missed the opportunity to win Gold for Pakistan:
Talha Talib is a 21-year-old athlete from Gujranwala. He took part in the Tokyo Olympics in the 67 kg category of weightlifting. Since 1976, he is the first Pakistani weightlifter to make the cut for the Olympics. Thus, it was a special occasion for him and for Pakistan.
At first, It seemed like he was going to win the medal for Pakistan. But unfortunately, he bumped down and was denied a podium finish. But his performance was noticed by everyone, especially in his home country Pakistan.
Talha has won many other awards as well. That is why the Government of Pakistan and PSB should extend a hand of support towards him.
He is a 4 Times National Champion. The years in which he won the titles are 2017,2018,2019, and 2020.
Moreover, he is SAF Games Gold Medalist. He won that medal in 2019.
Talha was also declared Best South Asian Player in 2019.
Talha also won Commonwealth Games Bronze Medal in 2018.
In an interview, Talha Talib said he practices in the open. This means that he cannot practice if there is rain, or too much cold, or during a hot day. He is surely the inspiration for everyone who wants to be an athlete. That is why youngsters should look up to him for motivation.
Moreover, he has also appealed to the people to support him in any future programs while discussing the difficulties he faced during training.
Pakistan Praises the Performance of Talha Talib:
Pakistani T20 Vice-Captain Shadab Khan praised him on social media. He urged the stakeholders to help athletes.He also pledged to set up a fund for Olympic athletes.
Another cricket came forward to support him. Former Test and ODI Captain Azhar Ali also appreciated his performance. Sports Journalist and Reporter Faizan Lakhani talked about the difficulties Talha Talib faced.
No matter the end result, Pakistan has truly found gold that can win medals for Pakistan in the future. The performance of Talha Talib in the Olympics 2020 is worth praising. That is why Sports personalities in Pakistan acknowledged his hard work and praised him on Twitter. His followers on Instagram also went up as soon as the round ended. Moreover, people on Twitter used the hashtag of his name. Thus, he became a top trend on Twitter. How many great performances will he do for Pakistan? To know that, we will have to wait and see. We wish him the best of luck in future endeavors.
What do you think about Talha Talib's performance in Tokyo Olympics 2020? Let us know in the comments section down below.
Don't Forget to read about the British Open Championship 2021?
---