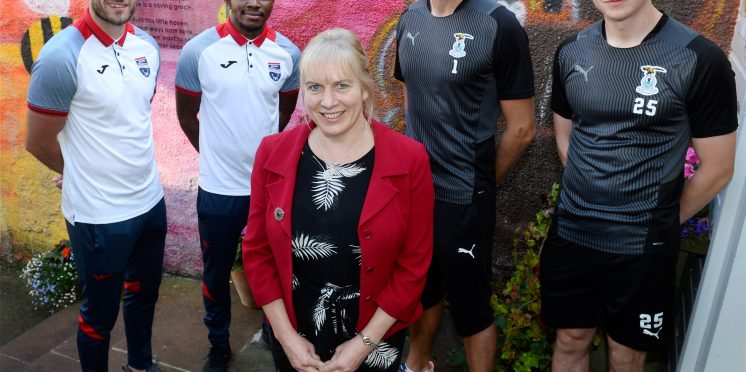 Highland football rivals put aside differences on World Suicide Prevention Day
Two historic footballing adversaries in the Scottish Highlands have set aside their differences to support mental health charity Mikeysline on World Suicide Prevention Day (September 10).
Players from Inverness Caledonian Thistle and Ross County have put their Highland derby rivalries to one side to join forces in promoting the importance of mental health support and suicide prevention.
The sporting truce comes as the FC United to Prevent Suicide campaign kicks off across Scotland, bringing together footballing heroes to dispel myths and stigma around mental health and reduce suicide rates across the country.
Keith Watson, Ross County right-back, said: "There's a big drive in football to be aware of mental health, and more and more people are beginning to speak up about it. Support services like Mikeysline can make a real difference.
"It's important to know that it's ok to talk and it's ok to get help, as this will and does make a big difference to people's lives."
Inverness Caledonian Thistle goalkeeper Mark Ridgers added: "It's really important to raise awareness about mental health and suicide prevention, especially given what has happened over the last 18 months. People have been impacted in different ways – including changes in work and their social lives.
"If you are struggling, don't hide away from it. Get support from Mikeysline or from wherever you are comfortable getting it. Equally, if you notice changes in a friend or family member, you can help point them in the right direction for support."
Watson and Ridgers were joined by Inverness Caledonian Thistle's Harry Nicolson and Ross County's Regan Charles-Cook for a tour of Mikeysline's support hub, The Hive in Inverness, to learn more about the services the charity provides across the Highlands.
The visit builds on the work of Mikeysline ambassadors John Robertson, sporting director at Inverness Caledonian Thistle, and Ross County CEO Steven Ferguson, who realise the importance of the footballing community in spreading the world about positive mental health attitudes.
Emily Stokes, chief executive officer at Mikeysline, said: "We're so grateful to Ross County and Inverness Caledonian Thistle for joining forces on World Suicide Prevention Day to spread a positive message about seeking help with your mental health. Football is such an important part of every community, so being able to bring our message to a larger audience has been fantastic.
"The latest statistics from Public Health Scotland show that almost three quarters of those who take their own life in Scotland are male, with around half aged between 35-54. Suicide rates are sadly higher in the Highlands than anywhere else in Scotland – so it is more important than ever to spread the message about proactively looking after our mental health.
"There's no wrong time to reach out for support with your wellbeing and mental health. You don't need to be considering suicide to be worthy of help. Whether you're feeling pressures at work getting on top of you, are struggling with a family issue, or are just feeling a bit down – it's important to remember that it's ok not to be ok, and that help is always available to those who need it."
Since 2015, Mikeysline has offered confidential, non-judgemental support to people of all ages with mental health issues or in emotional distress in the Highlands via a text line service at 07786 207755, as well as via live chat, Twitter and Messenger. The charity also offers face-to-face support from three Hives across the Highlands – at its Inverness headquarters; at Tesco in Tain; and at Am Bothan Community Café by Skiach, Evanton. The charity has also this year launched a dedicated young person's support service.
---