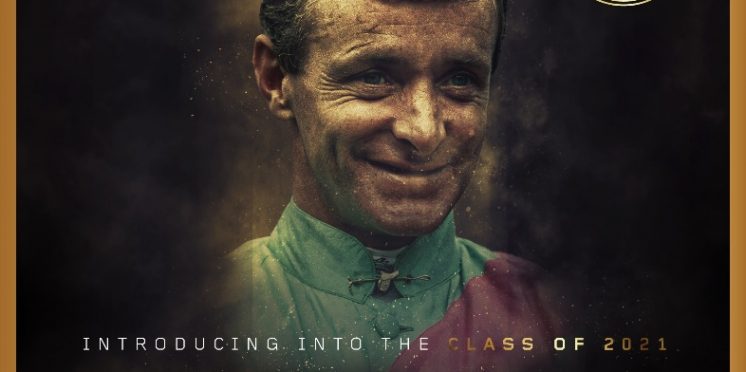 Eddery inducted into the QIPCO Hall of Fame
The late Pat Eddery is the latest star to be inducted into the QIPCO British Champions Series Hall of Fame – the official Hall of Fame for British Flat racing.
Eddery, who passed away in November 2015, became Champion Jockey on 11 occasions between 1974 and 1996, racking up more than 6,000 winners in his career. 4,632 of these were recorded in Great Britain, a figure exceeded only by the legendary Sir Gordon Richards, who finished with 4,870.
Among his 4,632 British wins were 14 Classics, including three Derby winners in Grundy, Golden Fleece and Quest For Fame. Grundy went on to win the Irish Derby and the King George VI & Queen Elizabeth Stakes in the same year of 1975, with the latter known as the 'Race of the Century', a thrilling duel with the St Leger winner Bustino in which Eddery had to use all his tactical nous to drive his mount to victory.
His daughter Natasha Eddery-Dunsdon, a competing showjumper, said: "He was, and always will be, one of the all-time greats. When I think about what he was like as a jockey, I think about his quiet concentration, his focus, the determination to win. That's what set him apart, his desire to win and to beat his comrades – winning was everything to him, second best just wasn't an option.
"He had the best hands of any jockey, he was a kind rider, intuitive, he just connected with horses. If he were riding a puller, he'd simply give the horse the rein and drop his hands on the neck – I've personally tried this and I always get run away with – but they never did that with dad, they just stayed totally relaxed.
"Entering the Hall of Fame would have made him so proud; I only wish he were still here to experience this special moment. It's one myself and my family will cherish."
Jockey Frankie Dettori said: "We used to call him 'God' because he was like God."
Four-time Champion Trainer Richard Hannon Sr., who Eddery rode for many years, said: "I'm sure Pat would have loved to have been inducted into the Hall of Fame. It's nice to be remembered. He was a very good jockey, he was very good with horses and he had a great memory of them too. If he rode one 18 months before, he'd know exactly all about the horse. He had a great brain.
"You didn't have to tell Pat anything really. He just went out and did his job. As a trainer you do the job to ensure the horse is fit and everything is fine, but he used to go out and do his own thing, however the race worked out. That makes a jockey for me – if the race doesn't go right for you, you think of another way round it."
As well as the aforementioned British Classic winners, Eddery was associated with many other Champions, including El Gran Senor, Zafonic, Danehill, Sadler's Wells and Warning.
However, his most famous association was no doubt with the mesmerising Dancing Brave, one of an incredible four Prix de l'Arc de Triomphe winners for him in the 1980s.
The 1986 renewal of the Arc included the likes of Derby winner Shahrastani, Prix du Jockey Club winner Bering and the highly-fancied German-trained Acatenango. With just three furlongs left, it was difficult to see where the 11/10 favourite Dancing Brave was in running. However, Eddery timed his run to complete perfection, with a white, green and pink flash flying home on the outside to round all his top-class rivals and sweep to victory. It was a track record at the time and one that lives long in the memory for those attending and watching on television.
In addition, Eddery helped British trainers gain landmark first wins in the Breeders' Cup Turf in 1985, aboard Pebbles and in the 1986 Japan Cup, on Jupiter Island, both for revered trainer Clive Brittain.
For good measure, in 1990 he also become the first jockey since Gordon Richards 38 years earlier to chalk up 200 winners in a season, finishing with 209; his highest seasonal total.
Eddery's riding style in tight finishes made him instantly recognisable, as he would often bounce in the saddle when requiring more from his mounts. It was unbelievably effective, with his phenomenal achievements speaking for themselves and making him a firm favourite amongst racing fans.
In recognition of Eddery's posthumous induction into the QIPCO British Champions Series Hall of Fame and to mark his achievement, his family will be presented with a specially commissioned medal, designed by Asprey and unique within British racing. This medal will be displayed as part of a special Hall of Fame exhibition at QIPCO British Champions Day, which takes place at Ascot Racecourse on Saturday 16th October.
---