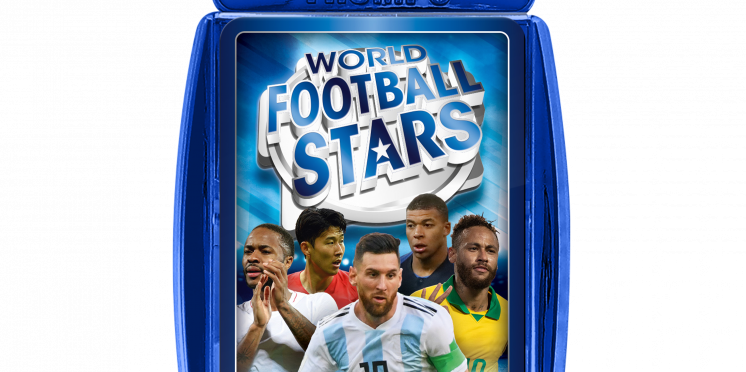 Top Trumps – new games for Christmas 2021
Top Trumps has been a family favourite for over 40 years and is the UK's #1 card game (iGen research) and the standard card games are also manufactured in the UK (in St. Austell, Cornwall).
With hundreds of hot topics to chose from like James Bond, Football and Peaky Blinders, there is a game for everyone of all ages including kids, families and adults.
Here are the new releases for Christmas 2021…
Peaky Blinders Top Trumps
Top Trumps is under new management, by order of the Peaky Blinders. Walk the streets of Birmingham with this new Limited Editions deck of Top Trumps, starring Arthur, Ada, Polly, Michael, Finn and Tommy Shelby himself. Thirty key players from this epic gangster saga feature, including Jessie Eden, May Carleton, Oswald Mosley, Winston Churchill and Alfie Solomons. Choose from five categories – Power, Loyalty, Notoriety, Integrity and Resilience – as you battle it out to claim every card for your own, and secure control of Shelby Company Limited.
RRP £10
Available on Amazon
Star Wars The Mandalorian Top Trumps
The Disney + smash it gets a brand now Limited Editions Top Trumps pack, with all the great characters from the space-western in a glorious gold case. Is Bo-Katan stronger than Ahsoka Tano? Is Kuiil as resisilent as Grogu and does Boba Fett has better technology than the Mandalorian himself? Grab this brand new pack and find out! This is the way!
RRP £10
Available on Amazon
007 James Bond Vehicles & Gadgets Top Trumps
Familiarise yourself with thirty vehicles and gadgets that are closely associated with the double-O agent known as James Bond. Pick from iconic weapons and tools like the wrist dart gun, Dentonite explosives and the Parker pen, as well as vehicles like the Q Boat and the Aston Martin Vanquish. This pack of Top Trumps Limited Editions celebrates some of Q Branch's most incredible gadgets, Bond's spontaneity and resourcefulness when it comes to their usage, and some of 007's foes' most fiendish devices. Find out which car has the best Technology rating, which gadget is the best disguised, and which is Bond's most recent piece of kit.
RRP £10
Available on Amazon
World Football Stars Top Trumps
Discover 30 of the world's finest football stars in this action-packed new edition of Top Trumps: World Football Stars. Featuring Cristiano Ronaldo, Antoine Griezmann, Luis Su'rez and many more, discover precisely how many Caps, Goals and Trophies these players have racked up, and battle it out for the title of Top Trump. Each card offers striking photography and a custom bio for each player that tells you everything you need to know about their career so far. Will Dembele's Year of Birth stat win the round? Will you conquer your opponents with Becker's Caps stat, or Kant's Top Trumps Rating?
RRP £8
Available on Amazon
World Football Stars Top Trumps Quiz
The goals, the saves, the trophies — relive it all in this spectacular new edition of Top Trumps Quiz: World Football stars. Take to the pitch with five hundred questions spanning your favourite footballers past and present, with categories including Cristiano Ronaldo, Lionel Messi, Wayne Rooney, Virgil van Dijk and Gary Lineker. Think you can remember which of Eden Hazard's parents was a footballer? Know where Gabriel Jesus was born, or which record Sadio Mané broke in 2015? If your football knowledge isn't up to scratch, don't worry — you can deploy the twist after half-time! Shuffle the questions you've already answered so you can test your memory and run rings around your opponents. This quiz is a must-have for football fans and Top Trumps lovers and is ideal for a quiz night or some indoor family fun when the match is rained off, so shuffle your deck and get ready for kick-off!
RRP £9.99
Available on Amazon
Elf Top Trumps Match
Join Buddy the Elf™ in the magical land of New York City, and relive his adventures as he explores new places, finds his father, and saves Christmas with Santa. Celebrating the classic holiday comedy, this brand new edition of Top Trumps Match: The Crazy Cube Game. Get five of the same cube in a row to win! The game contains twenty-five cubes featuring fifteen icons and images from the classic holiday movie, including Christmas candy, decorations, animals, the cheerful Jovie, and Buddy himself! The game comes complete in a handy carry case which makes tidying up easy. Take the game wherever you go — you might end up playing a round in Santa's sleigh! Strap on those elf shoes and spread some Christmas cheer with this beautiful matching game. Just don't forget to sing loud for all to hear!
RRP £15.99
Available on Amazon
Disney Pixar Trumps Match
Pixar is responsible for some of the most thrilling adventures, beloved characters and stunning 3D animation in movie history. Now you can battle it out with a friend as you try to match five in a row of these amazing characters in Pixar Top Trumps Match. Play with 15 different characters like Mike and Sulley, WALL-E and EVE, Buzz, Woody and Nemo as you compete to make a line of five before your opponent. Push in one cube to knock out another, build your own line and disrupt your opponent's line at the same time. But watch out — if your opponent's card matches your line, they can steal the win! With 25 cubes and a pack of 15 character cards, the entire game is easy to tidy and store thanks to the all-in-one carry case. It's time to relive some classic animated adventures and own a little piece of cinema history with Pixar Top Trumps Match.
RRP £15.99
Available on Amazon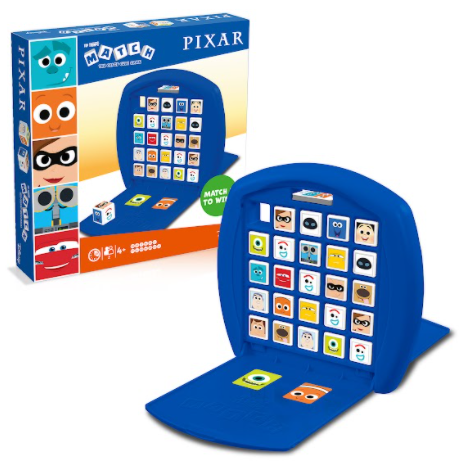 Batman Top Trumps Match
Start up the Batmobile because the Caped Crusader has another case to close! Time for you to don the mask of a hero and match five identical cubes in a row in this exciting new edition of Top Trumps Match: Batman! Think you can line up five of the same character in a row before your opponent can? Gotham City is depending on you. Join Batman, Robin, Catwoman, Riddler, Poison Ivy and the Joker himself in this super twist on the crazy cube game. Featuring iconic villains like the Penguin, Mr. Freeze and Batgirl, and heroes like Commissioner Gordon, compete for victory as you can knock out cubes to disrupt your opponent's characters while lining up your own.
RRP £15.99
Available on Amazon
---