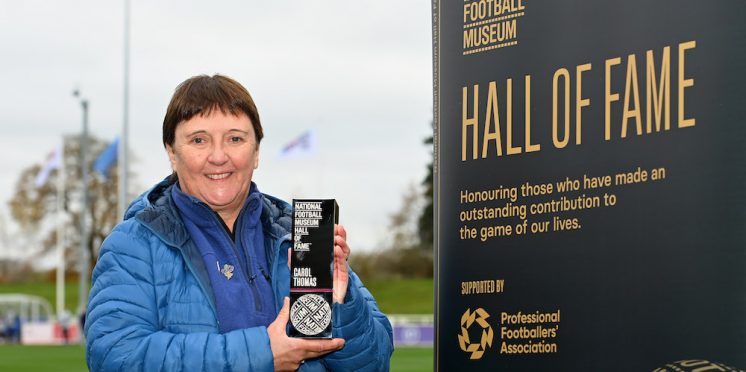 Carol Thomas inducted into National Football Museum Hall of Fame
Carol Thomas, the first person to ever captain England to a European final has today been inducted into the National Football Museum Hall of Fame.
A major forerunner of modern women's football in England, Carol was presented with the award by the FA's Director of Women's Football Baroness Sue Campbell at a ceremony held at St George's Park during the Lionesses World Cup qualifiers training camp.
Carol was also the first captain to lead an England Women's team outside of Europe and led the England team in winning the unofficial world cup Mundialito in 1985, two third places in 1981 and 1984 and a runners up position in the 1984 UEFA Women's Championship.
She remains the most successful captain of the England women's national team in terms of tournament successes and is a proud daughter of Hull and Ambassador for Hull City Ladies FC. She also gave so much to the grassroots game and returned to it herself in 1985 following 56 caps for her country (51 of those as captain).
National Football Museum CEO Tim Desmond said, "When we rebalanced the Hall of Fame as part of the National Football Museum's commitment to Women's Football, the one name that came up repeatedly was Carol Thomas. Carol is clearly well regarded and admired for what she achieved in the game; she is truly one of the giants on whose shoulders the current England players stand on. I am delighted that Carol is now being inducted to the Hall of Fame, to take her place amongst the greats of football."
Carol began playing at aged just 11, she was England captain by the time she was 20 and spent much of her club career in her local area, representing the likes of BOCM, Reckitts, Hull Brewery and Rowntree Ladies.
She went on to become the first woman to win 50 international caps and didn't stop playing until she was well into her 50's. She retired from international football in 1985 with 56 caps but kept playing locally until 2009.
The museum also already has Carol's runner-up medal from the 1984 UEFA Women's Championship Final on display. Carol joins proud company, most recently: Walter Tull, Paul Ince, Terry Butcher and the late Justin Fashanu in the Hall of Fame. you can find the full list on the National Football History Museum website here.
The Hall of Fame, supported by the Professional Footballers' Association, celebrates the achievements of those who have made an outstanding contribution to the game, either on or off the pitch.
For more information visit the official website of the museum here.
---