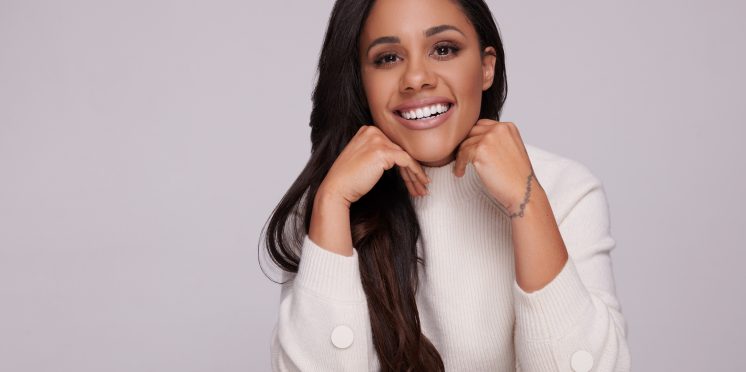 Century to publish raw and inspirational book by Alex Scott MBE
Century will publish an incisive and candid book – How (Not) To Be Strong – from broadcaster and former footballing star Alex Scott in September 2022.
From the football cages of East London to broadcasting to millions, the engine powering Alex's remarkable journey has always been her resilience. But thanks to a 'push through mentality', the world has only ever seen Alex's 'strong' side.
Now she is ready to lower the shield. In How (Not) To Be Strong, Alex shares the lessons that have shaped her, from finally confronting the legacy of a tumultuous childhood to the tarnished truth behind the gleaming football trophies.
In her debut book, Alex outlines the inspirational pillars of strength which have helped her to thrive: finding your voice, knowing when to ask for help, letting guilt go, embracing uncertainty and celebrating your wins. She explores the reality of growing up on a council estate in the 1990s, digging into her family heritage, the highs and lows of being a professional athlete, dealing with trolling, her Strictly Come Dancing experience and taking the leap into presenting.
With raw honesty, Alex shows how she's tackled life's challenges, in both her personal and professional life. Here, she proves that sometimes the strongest thing you can do is show your most vulnerable side to the world.
Zennor Compton, Senior Commissioning Editor for Century Non-Fiction, acquired world rights from Sara Drinkwater at MC Saatchi & Merlin. The book will be published on 29 September 2022 by Century, an imprint of Penguin Random House, in hardback and eBook, with a simultaneous audiobook publication from Penguin Random House Audio.
Alex says:
"Today's news is very special for me – it is definitely another pinch me moment, and I am honoured Penguin are sharing this journey with me.
I grew up believing strength is not showing vulnerability. However, life has taught me the opposite and actually showing vulnerability and exposing flaws can be the bravest thing you can do. I speak my truth in 'How (not) To Be Strong' which is both exciting and scary. I know now is the right time to share my story and I have genuinely given all of me, on every page.
This is a passion project and I hope readers enjoy it, but importantly can take their own strength from it. It's going to be an exciting year ahead, bring it on!"
Compton says:
"Alex is a trailblazer. She brings commitment and passion to everything she does and working with her is nothing short of inspirational. I know her candid and empowering book will motivate readers to find the courage to live authentically and freely, just as Alex has learned to. There is more to her story than anyone knows and I'm privileged to be working with her to finally share it with the world."
---