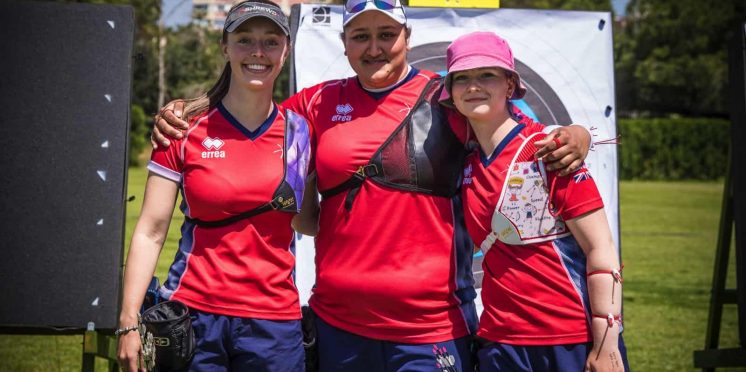 GB archers target gold medals at World Cup
GB's archers are on target for a successful World Cup after two teams won places in this weekend's gold medal matches.
The recurve women's team and mixed team will be shooting in the Antalya Hyundai World Cup 2022 finals in Turkey on Sunday, and both are guaranteed at least a silver medal, making it the first time ever that Archery GB has had two recurve medals at a World Cup.
Meanwhile, Ella Gibson will also be shooting for a medal in the compound women's individual semi-final on Saturday.
Shooting together as a team for the first time, Bryony Pitman, Jaspreet Sagoo and Penny Healey notched up wins in the recurve women's competition against Ukraine and Australia to meet Chinese Taipei in the semi-finals yesterday (April 21).
GB took the first set, and then Chinese Taipei took the next two sets, putting GB 4-2 down. In the last end, GB brought it back with a 56 to their opponents' 53 to take the match to a shoot off.
Jaspreet, 26, originally from the East End of London, and Penny, 17, from Newport, Shropshire, were competing in their very first World Cup. But they held their nerve and shot X and 9 respectively in the shoot off. With Chinese Taipei already on 28, Bryony knew she had to score 10 to take the win, and she did so, sending the GB women to Sunday's live final gold medal match.
Bryony, who is 25 and from Shoreham in West Sussex, is also still in with a chance in the individual recurve women's competition. She said: "I'm really happy with how we shot.
"There were some really awesome ends in every match, and to win the semi-final on a great shoot off too just finished off the morning in the best way.
"It's the first time we've shot as a team, and obviously it is Jess and Penny's first World Cup, so to have earned our place in the final fills me with confidence for the future. I'm super excited for Sunday and being back on the stage."
Bryony will also be taking part in the recurve mixed final, alongside teammate Alex Wise, 21, from Newcastle.They secured a place in the gold medal match by beating the US team in the semi-finals in another shoot off.
Ella Gibson faced Ayse Bera Suzer from Turkey. The women were tying on 115 a piece going into the final end. Gibson's X, 10, 10 clipped the Turkish archer's X, X, 9, earning her a place in Saturday's live semi-finals.
The 21-year-old from Cirencester said: "My matches were super tough today and tight throughout, so it was a real battle, but I'm so happy to get through.
"It feels like I've been working so hard for so long to get here, and I can't wait to see what will happen on Saturday. I'm just going to take it one arrow at a time, and see where I end up."
The finals will be streamed on World Archery's Youtube site at:
Ella Gibson's compound women's individual semi-final match will start at 12.02pm on Saturday.
The recurve women's gold medal match will start at 8.02am on Sunday, with the recurve mixed gold medal match at 9.37am on Sunday.
Bryony Pitman's recurve women's individual match will be at 12.14pm on Sunday (UK times).
---