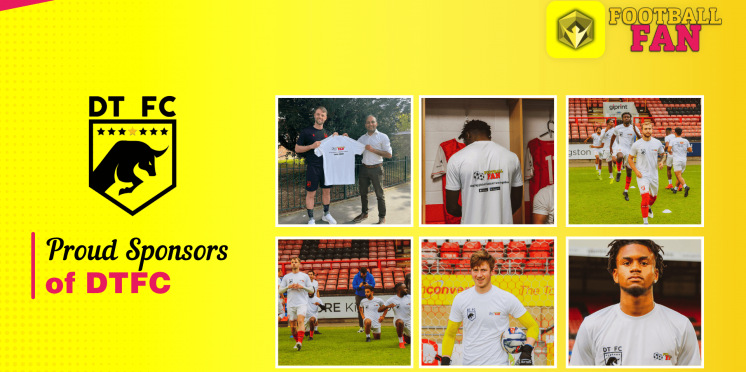 Football Fan app sponsorship supports the grassroots game
Football Fan, a rapidly growing Web3.0 app and digital marketplace which allows fans to engage with their favourite teams and content creators, is also doing its part to support the grassroots game in the UK.
Football Fan has had an ongoing collaboration with DTFC, one of the sport's most exciting grassroots teams, which recently played both the Fenton Cup Final and Senior Division Cup Final. Both games took place at Leyton Orient FC in a space of a week, and DTFC managed to win the Division cup final by 3-2.
The team warmed up in Football Fan apparel, provided by the company, and as a thank you to the team, Football Fan offered FanCoin® to every player, and to the fans attending the game. Free t-shirts were also distributed during Senior Division Cup Final to all the fans attending the games as a gesture to say thanks.
Football Fan is revolutionary in how it combines fan engagement with its own proprietary digital token, FanCoin®, which can be collected through posting content and engagement on the app, and redeemed on the App's internal NFT marketplace, which features collaborations with some of the UK's leading sports publishers.
FanCoin® holders will automatically participate in a lucky draw, where the first winner will receive a Goal of the Day video NFT, the second winner will win a match celebration video NFT, and the third winner will receive a man of the match picture NFT.
The Football Fan family values and appreciates fans as the beating heart of the sport, and works with elite and grassroots clubs, publishers, and content creators to make sure that supporters are engaged, valued, and rewarded for their fandom. This collaboration was just one example of this.
CEO of Football Fan App, Amit Singh Rathore, said:
"We would like to collaborate with as many grassroots and semi-professional football clubs as possible, to help them deliver the benefits of this new technology for the team, and their fans."
Chris Smith, captain of DTFC, said:
"We're excited to partner with Football Fan App. We believe that football fans from all over the world should have an opportunity to connect with likeminded people and express their passion for our loved sport. Combining their community with NFTs and FanCoin will allow us to be closer to our fans and take us to the next level."
---