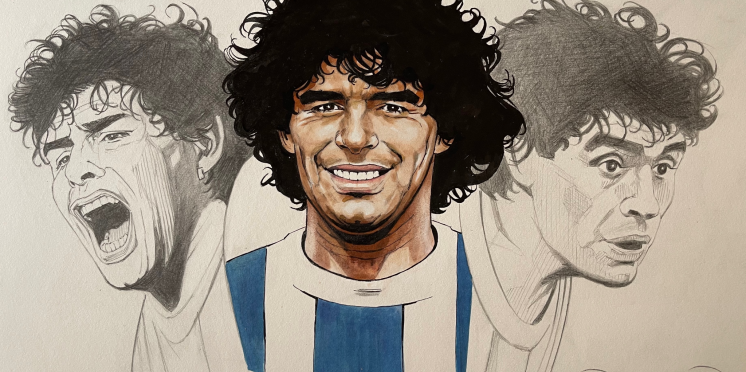 Podium Ventures appointed as exclusive agent for Diego Maradona brand
UK venture builder Podium Ventures has announced its appointment as the exclusive worldwide agent to develop the global brand of football icon, Diego Armando Maradona. 
Led by Maradona's sisters Lili and Rita Maradona and Sattvica S.A. – the commercial entity controlling the worldwide rights to Maradona's brand name, image and likeness – the partnership will see Podium Ventures lead on commercial development as part of a broader vision for growing the Maradona brand globally, with a particular focus on web3, the gaming sector, and the metaverse.
Next week (22 July, 2022) MetaFrames – a next generation web3 media company established in 2020 by Podium Ventures – will be launching the Official Maradona Fan Club as part of plans to take the icon into the metaverse. In addition to bolstering Maradona's legacy, the move signals a brand-new opportunity for his global fan base to be able to reconnect with the iconic sporting star and enjoy a number of benefits as members of the official fan club.
Sanjay Wadhwani, CEO and Founder of Podium Ventures, comments: "Maradona is undoubtedly one of the greatest footballers of all time, so it is a real honour to be able to announce details of our exclusive partnership. Podium Ventures is a venture builder and we will be working to develop and grow the Maradona brand on a global scale, starting with launching the fan club and the first-ever official Maradona NFT collection next week.
"As a massive fan of the footballing legend, I am incredibly excited to be given the opportunity to bring back Maradona, celebrating his legacy with his loyal fan base, as well as introducing him to the millions of younger fans who never got to see him play. We have huge ambitions to where we want to take the brand, so watch this space…"
Matias Morla, CEO of Sattvica adds: "We look forward to working with Sanjay, Podium Ventures and MetaFrames in honouring the great Diego Maradona and preserving his legacy in accordance with his wishes. We have many exciting initiatives for the Official Maradona Fan Club and fans of Maradona around the world."
Regarded as one of the greatest players in the history of football, Maradona continues to make headlines. Earlier this year, Maradona's blue Argentina no.10 jersey from the 1986 World Cup Quarter Final sold for a record £7.1m at auction – highlighting that the 'Hand of God' continues to be revered and beloved by sporting fans worldwide. Also this year, Diego Maradona was removed from the FIFA 22 game due to image rights, causing huge uproar from fans across the world.
"The potential reach of brand Maradona is huge and I am excited about the opportunities we will create in gaming, esports, merchandising, and media as well as emerging technologies such as augmented and virtual reality and web3. Podium Ventures is determined to open the door to a brand-new era of fandom!" concludes Wadhwani.
For more information about Podium Ventures visit: www.podiumventures.io
---