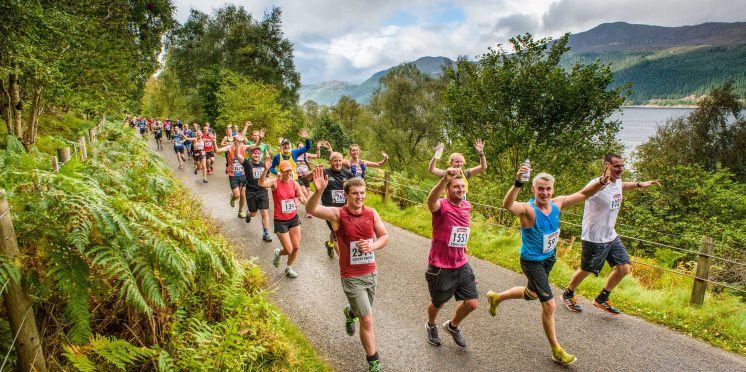 Get your running shoes on for Nessie
The Baxters Loch Ness Marathon and Festival of Running is calling on all running enthusiasts to register for its landmark 20th event before it's too late.
General entry for the Baxters Loch Ness Marathon closes on July 18 – after which places will only be available for those running for one of the events' official charities; runners belonging to a running club; or those travelling from overseas.
Runners Lucy Mackay, Kenneth Stewart and Fiona Rennie will be amongst the participants lining the start line on October 2 – each competing for an impressive 20th time.
Race director Malcolm Sutherland said: "When we started the Loch Ness Marathon all those years ago, we never imagined it would become such a big part of the running calendar.
"To have runners like Lucy, Kenneth and Fiona on this journey with us from day one is hugely gratifying. We always knew there would be an appeal to run amongst some of the world's most stunning scenery, but for participants to join us time and time again makes it all worthwhile.
"We're also incredibly grateful to Baxters Food Group, who have been with us as event sponsors from the very beginning. Their support has helped us make the event what it is today.
"If anyone out there is still on the fence, there are still a couple of days left to sign up for general entry and I'd strongly encourage you to do so before the deadline – we firmly believe you won't find a more beautiful run anywhere else."
Each year, runners travel from across the globe to traverse the famous shores of Loch Ness – and this year is no different, with athletes due to arrive from Brazil, Finland, Australia, South Africa and UAE amongst many others. The race is also popular with those closer to home – with at least three runners on track to have completed the course all 20 times.
Seventy-year-old Kenneth Stewart, from Perth, will mark not only his 20th Loch Ness Marathon this October, but his 120th marathon overall when he crosses the finish line in Inverness.
He said: "The Baxters Loch Ness Marathon is something of a Highland adventure with an international field – a moorland setting with a heather landscape as a backdrop.
"I usually run in the kilt which slows me down by three minutes per hour! As long as I can, I will return for another fix of Highland hospitality."
Glasgow's Lucy Mackay, 57, also highlights the majesty of the Highland setting as one the reasons she will return to roads along the edge of Loch Ness for the 20th time this October.
"I really love the Baxters Loch Ness Marathon," she said. "I have run 63 marathons, but Loch Ness is definitely my all-time favourite.
"I love that it starts near Fort Augustus. I met my husband Hamish at the Lovat Arms Hotel in 1988 and my sons were both born at home in Fort Augustus. It's where I started running 25 years ago.
"It is such a splendid race! I love the start, so high up in the hills near the Suidhe viewpoint. It is so dramatic and spectacular, and I always find it very moving too with the pipe band playing us off at the start."
Fiona Rennie from Dunfermline – who has been running for 35 years, and will enter a new category at the age of 60 by the time the marathon arrives – is also looking forward to her 20th visit to the loch.
She said: "I really enjoy the Baxters Loch Ness Marathon because it has the buzz of a big city marathon but without having to run in urban areas. Give me a scenic route every time – and the views from the route bring back happy childhood memories.
"After passing Dores and heading up the hill, I always turn around and enjoy the view down the loch, it's stunning! In previous years, the marathon has given me cherished memories – from coming back from ill health to reaffirming I'm alive and kicking, and I hope I can keep going for a long time yet!
"I even have 'lucky pins.' They are the safety pins I used to pin my race number for my first marathon in 1992 and I've used them for every race since!"
Entry to the River Ness 10K, River Ness 5K, and Wee Nessie kids race is open until September 26, alongside charity, international and club slots for the main Baxters Loch Ness Marathon.
The Baxters Loch Ness Marathon & Festival of Running is one of the world's most popular running events, and takes place in 2022 on October 2. The point-to-point marathon starts in atmospheric Highland moorlands, stretching 26.2 miles along the south-eastern shores of the iconic Loch Ness and finishing in the Highland capital, Inverness. The Festival of Running also comprises the River Ness 10K and River Ness 5K, as well as the Wee Nessie for under-5s. Participants and spectators can also visit a free sports expo, Runners Cafe and street food, live music and kids' activities across the event weekend.
For more information, visit www.lochnessmarathon.com or follow the Loch Ness Marathon on Facebook, Twitter and Instagram.
---