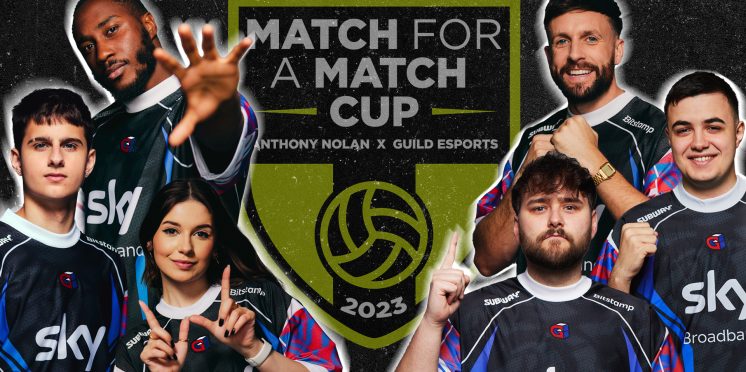 Meet the pro gamers changing their game 
The UK's leading blood cancer and blood disorder charity Anthony Nolan has announced its latest partnership with Guild Studios, the home of some of the world's best professional gamers and content creators.
The pair have joined forces to launch the 'Match for a Match Cup', a FIFA tournament with a difference that will see pros, not usually known for playing the football video game, quite literally change their game, stepping out of their comfort zone to contest a competitive one-off knockout tournament.
The announcement comes as Anthony Nolan continues its work to inspire 16–24-year-olds to join the stem cell register, a vital cause in helping to save the lives of people living with blood cancer or blood disorders. This young demographic is vital to the charity's work as they are more likely to be a match and offer the best chance of saving a life. What's more, it's easy to do as joining the stem cell register takes less time than a standard 12-minute game of FIFA.
Crossing the (virtual) white line in the Match for a Match Cup will be co-star of the Jaack Maate's Happy Hour podcast and Guild content creator Stevie White, who as a self-confessed FIFA novice is excited to "embarrass himself for a good cause". Joining Stevie will be 'Anas' El-Abd, a pro Fortnite esports player that previously won MrBeast's $1,000,000 tournament, but how will those skills transfer to the football pitch?
Among others lining up to take their shot is content creator and Twitch streamer Harrie Silver, best known for her lifestyle content but now answering the call to take on the world's biggest football video game. Completing the line-up will be Henrik 'Hen' Mclean, a British/Lithuanian Fortnite player that, at just 17 years old, has already amassed an impressive roster of career wins. Hen has described himself as a casual FIFA player and is excited to hone his skills on a more competitive level.
The Match for a Match Cup will be hosted by presenter Iain Chambers, who fronts some of the biggest esports tournaments all around the world. Joining Iain will be TN25, a Guild content creator that specialises in FIFA, with the pair bringing you all the action and match commentary from the tournament.
Partnering with Guild, a key pillar of the gaming industry is the perfect way for Anthony Nolan to reach more individuals with 71% of people between the ages of 16-24 playing regularly online[1]. Gaming has also been a solace in tough times for a number of patients, including Rian Harvey, who was just 14 years old when he was diagnosed with Acute Myeloid Leukaemia. With so many months in hospital, and a long isolation period after a stem cell transplant, Rian says that gaming 'saved him' as he navigated his route to recovery.
Matt Allen, Senior Digital Marketing Manager at Anthony Nolan said: "In fewer than the 12 minutes it takes to complete a match on FIFA a young man could sign up to the stem cell register. Currently 18% of the UK Anthony Nolan stem cell register is made up of young men, but they account for 55% of people called upon to donate.
"By putting on an exciting event with some of the world's most decorated esports players trying their hand at something new, we're excited to shine a light on young people's ability to try something new themselves, which could have life-saving results."
Nick Westwood, SVP at Guild Esports: "Guild's appeal to the notoriously hard-to-reach Gen Z demographic makes us the perfect partner for Anthony Nolan as it looks to encourage more 16–24-year-olds to join the stem cell register. Together, not only will we be offering an evening of entertainment, but hopefully will inspire young gamers to step out of their comfort zone and, in doing so, make an impact on the issue of blood cancer and blood disorders."
All the action will be streamed LIVE on the Guild Twitch channel. Viewers will be inspired by in-tournament interviews with patients, survivors and donors from the charity who will look to inspire the next generation of game changers by telling their stories.
—
[1] USwitch gaming statistics 2023
---