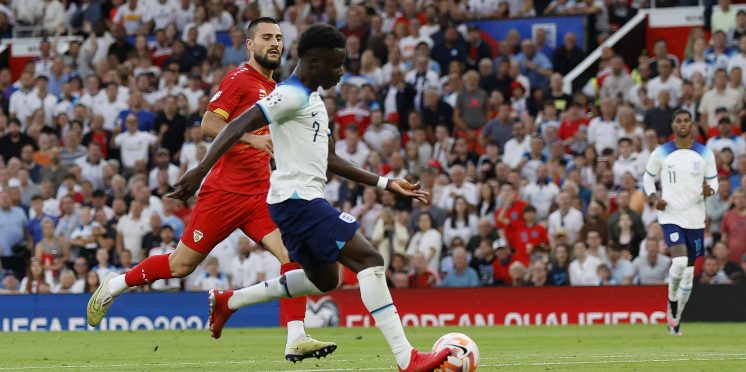 Bukayo Saka followers explode over night by 100,000 after hat-trick
Bukayo Saka has seen a massive boost to his online social media presence following his hat-trick in England's 7-0-win against North Macedonia in a Euro 2024 qualifier at Old Trafford. 
Research analysts Gambling 'N Go analysed the player's Instagram following between before and after the match to see just how much impact the hat-trick has had on his online social standing.
On the 18th of June, the England player was reported to have 1.8 million followers, and this has since jumped to a staggering 1.9 million followers as of June 19th, an increase of 100,000. Saka's TikTok likes have also seen a skyrocket of +400,000, taking his total likes to 8.9 million likes in total.
Perhaps this will further concrete Nike's number one position as the most popular sportswear brand in England due to manufacturing the England football kit.
A new study has revealed United Kingdom's top five most popular sportswear brands.

The study by research analysts at Gambling 'N Go analysed average monthly traffic to establish which sportswear websites each European Country is visiting the most. They analysed a list of 206 popular sportswear brands against monthly traffic to determine which is the most popular.
1. Nike
Coming in at number one is Nike, with 5,485,230 monthly traffic visits. Nike was first founded in 1964 and has continued its success ever since, famous for its 'Just do it' slogan and for its many collaborations with celebrities across the globe. Teaming up with celebrities, musicians, and sports stars such as Michael B Jordan, Rafael Nadal, Christiano Ronald and Travis Scott.
Out of the whole of Europe, France had the highest traffic to the Nike website, with an average of 5,725,660 visits a month. France has 54 Nike stores across the country, with the region of Île-de-France having 35% of the stores.
2. Adidas
Number two on the list is Adidas, with 2,242,646 monthly visits on average. Adidas is the largest sportswear manufacturer in Europe and the second largest globally, following Nike. They have sponsorships with some of the biggest names in football, such as David Beckham, Lionel Messi, and Mohamed Salah.
The largest Adidas store in the world is located in Berlin, Germany. This store covers an area of over 8,000 square meters and features a wide range of products, including exclusive collaborations and limited-edition products.
3. Decathlon
In third place is Decathlon, with an average of 2,039,824 monthly visits. Founded in 1976 in France, Decathlon is inspired by the belief that the best sports products should be accessible to everyone. Recently, the brand went viral on TikTok as their Quechua jacket worn by rapper Central Cee on the red carpet at the British Fashion Awards, ultimately causing it to sell out.
The country with the most Decathlon stores in Europe is France, with 340 Decathlon stores across the country. The state with the most significant number of Decathlon locations in France is Auvergne-Rhône-Alpes, with 49 stores, which is about 14% of all Decathlon stores in France.
4. North Face
At number four is The North Face, with 986,045 monthly visits on average. The American brand was founded in 1966 and named after the most challenging side of a mountain in climbing. The North Face has shown dominance in the sportswear market with marketing collaborations with the likes of Gucci, Vans, Supreme, and Timberland.
There are 321 locations that sell The North Face in the United Kingdom, with 34 in London alone.
5. Skechers
Finally, the fifth most visited sportswear brand is Skechers, with 794,797 visits a month on average. Skechers was founded in 1992 and is the third-largest footwear brand in the United States. Celebrity collaborations have included Myleene Klass, Britney Spears, Christina Aguilera, Kim Kardashian, Demi Lovato, and recently Doja Cat. T
The United Kingdom is the only European country where Skechers appeared in the top five.
A spokesperson for Gambling 'N Go commented: "The sportswear industry is a fascinating landscape to watch and monitor, as fashion, sports and celebrities all have huge influence and impact. It is interesting to see how Nike is dominating the industry, with currently 3.2 million more visits to their website than second place Adidas. It's going to be really fascinating to see how big upcoming sporting events, such as the England football team, can really concrete Nike's position as England's most popular sportswear brand." 
Article supplied by Gambling 'N Go
Image by Action Images via Reuters
---