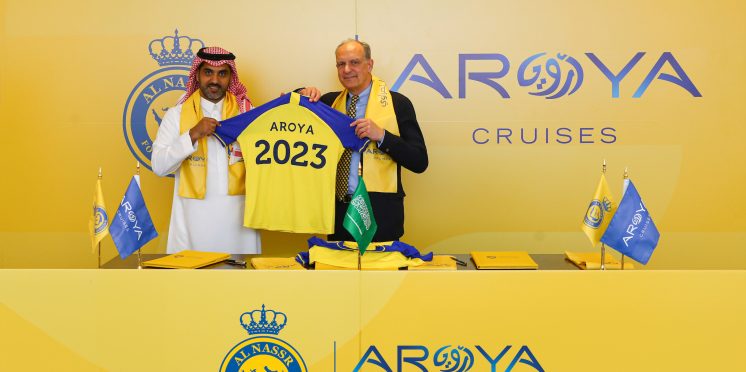 Al Nassr announces AROYA Cruises as front of shirt sponsor
AROYA Cruises, Saudi Arabia's recently launched premier Arabian cruise line, part of Cruise Saudi, is thrilled to announce its three-year Gold Sponsorship agreement of Al Nassr Football Club.
The new strategic partnership aims to foster synergies between the two entities and unlock mutual benefits. Key to the partnership is the connection between the exhilaration witnessed on the football pitch with the unparalleled remarkably Arabian experiences to be offered by AROYA Cruises.
As the official sponsor of the club, AROYA's logo will be prominently displayed on the upper chest area of Al Nassr Football Club's iconic jersey.
As part of the sponsorship, AROYA Cruises and Riyadh-based Al Nassr FC will conduct joint promotional campaigns starting from the 2022-2023 season until 2025-2026. The campaigns will focus on linking Al Nassr's stars and fans with the immersive cruise experience, designed and tailored to reflect the brand values of inspiration, enrichment, generosity and respect, offered by AROYA Cruises.
The aim is to create a seamless connection between the passion for football and the exploration of Saudi Arabia's coastal treasures and other destinations, fostering the objectives of Saudi Arabia's Vision 2030 toward economic, social, and cultural diversification and opening up new areas of economic activity and development.
"We are delighted to announce our Gold sponsorship of Al Nassr Football Club" said Lars Clasen, Chief Executive Officer at Cruise Saudi.
"This partnership allows us to align the excitement of remarkable performances witnessed on the football pitch with the remarkable experiences we will offer at sea. Together, we aim to create unforgettable and exclusive moments for Al Nassr's players, and football-loving fans and families through showcasing this new element of tourism in Saudi Arabia" Clasen added.
"We are so happy today, we will start a great story with AROYA Cruises. They will be one of the iconic tourism destinations around the world. Which goes well with Al Nassr strategies to achieve Vision 2030 goals" said Mr Ahmed AlGhamdi, Al Nassr FC CEO.
The sponsorship represents a significant milestone for AROYA Cruises and Al Nassr as they embark on a groundbreaking collaboration, harnessing and combining the transformational powers of both tourism and sport. The partnership brings together two key pillars of Vision 2030, solidifying their shared commitment to delivering unforgettable experiences to the people.
---