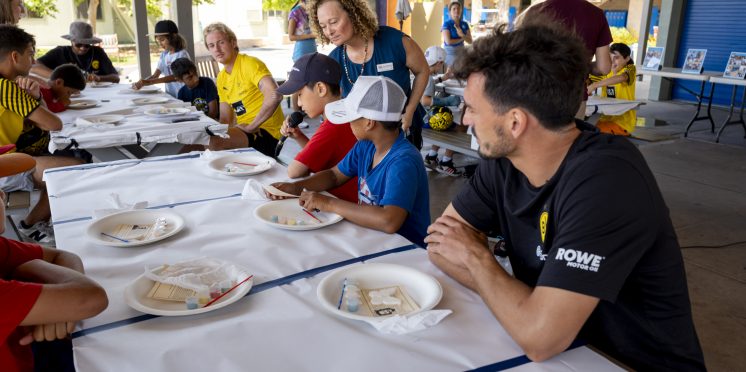 Borussia Dortmund players memorialize children killed in the Holocaust
 The World Jewish Congress, as part of its work with Borussia Dortmund to fight antisemitism and promote Jewish life, praised the team for participating Friday in a project at the San Diego Jewish Academy that memorializes children killed in the Holocaust. 
The German soccer club had trained for much of last week on the grounds of the San Diego Jewish Academy, as part of its U.S. tour.
"Football clubs have a unique ability to inspire positive social change," said Cory Weiss, WJC executive director of communications strategy. "The World Jewish Congress is proud to work together with Borussia Dortmund to find new ways to elevate the voice of the Jewish community and ensure that our shared history will be used to build stronger future generations." The Dortmund club has previously cooperated with WJC on a range of programs, including the #WeRemember campaign and other initiatives to combat antisemitism.
Alongside students from the academy, Dortmund team manager Edin Terzic and star players Mats Hummels, Julian Brandt, Niklas Süle and Marco Reus on Friday took part in The Butterfly Project, a "call to action through education, the arts and memorial making." By painting ceramic butterflies to display as symbols of resilience and hope, participants commemorate the 1.5 million children killed during the Holocaust.
The players, after chatting with the students and fulfilling autograph requests, painted butterflies for children originally from Westphalia, the German region where Dortmund is situated. Participants also received the biography of the child they had memorialized.
Cheryl Rattner Price, founder of The Butterfly Project, had prepared the biographies. Since 2006, 350,000 ceramic butterflies have been painted and now hang around the globe. "When the players take their butterflies, they carry the message," she said at the event. "It is a message for peace. They help us amplify our message."
Carsten Cramer, Dortmund's chief marketing officer, added, "BVB supports the work of remembrance so that what happened is never forgotten. We will continue to fight against antisemitism. The butterflies are given a special place at the training ground in Dortmund as a symbol of support."

Leopoldo Kahn, the grandson of the former Jewish mayor of Dortmund (Paul Hirsch), spoke at the event about his family history. Kahn is a former head of the Peru Jewish community.
In March 2022, more than 100 representatives of German professional football joined Jewish community leaders and experts to grapple with how professional soccer clubs can more effectively combat Jew-hatred.
The conference, "Antisemitism and Professional Football: Challenges, Opportunities & Network," was held at Borussia Dortmund's Signal Iduna Park and organized by the German Football League (DFL), the World Jewish Congress and the Central Council of Jews in Germany. It marked the first time that a national-level football league has engaged on such a large scale with the Jewish community on the topic of antisemitism within the wider context of sporting activities. The conference was also supported by UNESCO. 
Image copyright: Borussia Dortmund GmbH & Co. KGaA, .Rheinlanddamm 207-209.44137 Dortmund
---