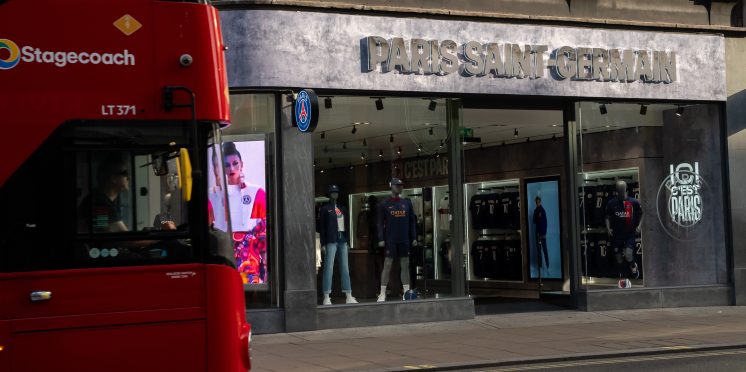 Paris Saint-Germain and Lids are opening a new official PSG store on Oxford Street, the famous London thoroughfare. The Parisian outfit is the first non-British sports club to set up shop in the UK capital – which is the latest step in its innovative strategy for developing a permanent retail network in the world's biggest cities to reach Paris Saint Germain fans around the world.
This ground-breaking move follows the opening of official club stores in Doha, New York, Los Angeles, Tokyo, Seoul, Miami and, most recently, Las Vegas. It is founded on the outstanding work Paris Saint-Germain has done over the last decade to raise and enhance the awareness and presence of its brand on every continent and reinforce the brand's lifestyle positioning with exclusive collections and collaborations with top local designers and talent.
A country that loves football and is no stranger to setting trends, the United Kingdom has succumbed to PSG mania. The Rouge & Bleu PSG Jersey is worn by many Brits and is especially popular with younger generations. The UK is now the club's 2nd-biggest market in terms of merchandising.
The Club first established its presence in the country in 2016 through its PSG Academy network. The academy footprint has grown and now encompasses 10 academies across the UK including London and Manchester. Thanks to the club's coaching methods, more than a thousand young British people are now honing their football skills through the PSG Academy.
This latest store opening reflects the club's ambition to strengthen its ties with its longstanding fans in the UK. London is a cosmopolitan city which is home not only to British supporters but also to French fans living in London and followers from around the world. The UK also has the world's third-highest French population outside France.
On social media Paris Saint-Germain is hugely popular in the UK, with over 4.5 million followers on X (formerly Twitter) alone.
In extending its store network across the English Channel, Paris Saint-Germain is creating more proximity and sharing the club's passion for football and fashion with a new community of fans.
Paris Saint-Germain Chief Brand Officer Fabien Allègre said: "London is one of the world's leading capitals of culture and a unique source of inspiration. Paris Saint-Germain is extremely proud to be the first foreign club to set up shop there, on one of the city's most famous and dynamic shopping streets. It is a bold move that demonstrates the club's remarkable ability to roll its brand out. Paris Saint-Germain is delighted to get closer to its British fans and to bring them Parisian lifestyle and an immersive Rouge & Bleu experience."
Lawrence Berger, Co-Founder and Partner at Ames Watson, owner of Lids, and Chairman of FanzzLids Holdings said:
"We are thrilled to continue to grow the Lids partnership with Paris Saint-Germain. The PSG brand is a worldwide icon so adding a state-of-the-art store to London is incredibly exciting. We have had incredible success with PSG stores in New York City, Miami and Las Vegas and look forward to additional exciting store announcements in the near future".
Located at 192 Oxford Street, the all-new store will welcome its first customers on 8 September. Boasting 450m2 of floor space, it will offer a unique experience to visitors and will be open seven days a week, from 10 am to 08 pm Monday-Saturday and 12 pm to 6 pm on Sunday.
Among the many items featured in this new location, Paris Saint-Germain fans will find the new 2023/24 home and away shirts as well as the club's training apparel, caps and scarves, not to mention figurines of their favourite players.
For more information, go to the official Paris Saint-Germain website.
Address: 192 Oxford St, London W1D 1NS
Opening hours: 10-8 [Monday-Saturday] + 12-6 [Sunday]
---