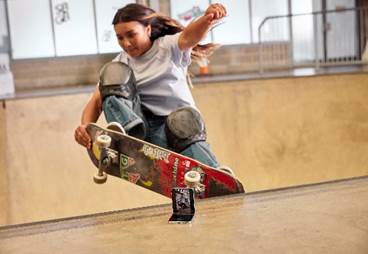 Samsung Partners with Skateboard to find the next Olympic Star
In a first for the brand, Samsung UK & Ireland has today announced a new partnership with Skateboard GB, the governing body for Skateboarding in Great Britain. Samsung epitomises the Korean spirit of 'Tu-hon' – a burning, under-dog spirit of grit and passion, and a relentless drive to succeed, which goes hand-in-hand with the athletes of the sport and their 'guts to try' mentality. When it comes to Samsung's technology, innovative features such as Flex Mode[1] in the new Galaxy Z Flip5 enable skateboarders to take the perfect action shot – effortlessly capturing those bold enough to get on a board, go up and down ramps, and to land that trick that would seem impossible to most[2].
Together Samsung and Skateboard GB hope to combine their underdog mentality to nurture the next generation of skateboarding talent and inspire more participation in the sport across the country. Every kick-flip and trick will also be captured by the team on the show-stopping new Galaxy Z Flip5 – with its incredible camera and content capture capabilities. The better the quality of the content, the prouder skateboarders will feel showing off their skills, generating more kudos.
To further empower the next generation of skateboarding athletes, Samsung has brought together a team of pro skaters, uniting leading British talent with the most exciting skateboarders on the scene, to help champion the sport. Jordan Thackeray, Stefani Nurding, Rianne Evans, Ashley Mercer and Alex Decunha will be led by Sky Brown, in capturing their #withGalaxy content with the Samsung Galaxy Z Flip5. Sky made her Olympic debut at the Tokyo Games aged only 13, winning Bronze in the park event and has gone on to become Britain's first skateboarding World Champion.
"Those that pick up a skateboard, whether at the Olympics or their local skate park, are so inspiring as it demands guts and determination to keep trying. With the next Olympics around the corner, and so much untapped talent across the UK, we're thrilled to be supporting Skateboard GB in its development of the sport", said Annika Bizon, Marketing & Omnichannel Director at Samsung. "We also know how important photography is to these athletes, recording their progress and capturing their skills mid-air, and our Samsung foldable devices can help do just that. Forget propping your phone up on the rails or with a shoe – Flex Mode does it for you, so you never miss a shot – no matter how many times it takes to land it."
With Samsung's support, Skateboard GB will use the funding to help British skateboarders 'Skate More, Skate Better'. A campaign aimed at inspiring skateboarders around the UK to get involved through:
Coaching opportunities: Developing and amplifying Skateboard GB's 'The Cruiser Awards' to support beginner skateboarders aged 8–16-year-old within communities across the UK.
Supporting and maintaining facilities: Protecting and supporting community skate parks and spaces all over the country.
Elite athlete support: Financing performance pathways and competition entries for Team GB.
James Hope-Gill, CEO at Skateboard GB said "We're absolutely delighted to be partnering with Samsung, as they look to support us in developing and growing skateboarding throughout the UK. Both organisations aim to inspire and nuture skaters in amazing skateable spaces across the country and this partnership is a key part of facilitating our desire to provide skaters the opportunity to "Skate More, Skate Better" from grassroots skateboarding through to the Olympics."
Sky Brown, a 15-year-old Olympic skateboarding sensation and World Champion, said, "One thing I love even more than skateboarding, is seeing others try it and love it for themselves! You have to have the right attitude, and never give up – it's all about having the guts. I can feel people in the UK getting behind our sport and I can't wait to see where we can take it together."
YouGov research, commissioned by the creative marketing agency behind the supporting campaign, Iris, shows the growing popularity of skateboarding and skate culture among a GenZ audience in the UK.
Grant Hunter, Executive Creative Director at Iris said: "We're on a mission to supercharge skateboarding in the UK and give GenZ the 'guts to try' the sport by Paris 2024 and beyond. Photography and videography have always been so integral to skateboarding culture making Samsung the perfect partner to do this. We've worked closely with the talent and the skateboard GB community through our Iris Inc network of creators to co-create this campaign so it's culturally on point. Our launch film shot by passionate Skater and Director Jake Erland, covering different facets of skateboarding culture, kicks off an impactful campaign that will roll out across Instagram, TikTok and YouTube, with audience participation baked in at every stage."
Samsung will celebrate the partnership at an event at London skatepark BaySixty6, bringing Team Samsung Galaxy Skate, a team of pro skaters, together to demo their skateboarding skills to an audience of young skateboarders from the local community, encouraging them to' drop in' with Samsung on the day. The team of skaters will show what's achievable if you have the guts to try and demonstrate the capabilities of Samsung's Galaxy Z Flip5, as the perfect device to ensure that when you hit the ramp, you never miss a trick.
Find out more: https://www.samsung.com/uk/samsungskate
---