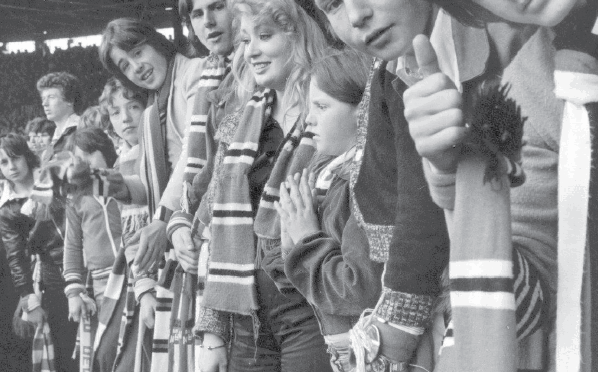 A City United at the National Football Museum
The National Football Museum has today launched a brand-new photographic exhibition, A City United, ahead of the 53rd Premier League Manchester derby fixture.
The collection of portraits by photographer Iain S. P. Reid were captured at derby matches between 1976 and 1977 and provide a stark, yet surprisingly endearing record of English football culture and the City of Manchester at that time.
Reid sadly passed away in 2000, having spent much of his professional life as a social worker. Alongside his passion for photography, supporting homeless people and in particular those with drug and alcohol issues was a hugely important to Reid. The sheer volume of mourners at his funeral paid testament to the impact he made to the lives of so many.
This humility is clearly evident across his work, which challenges the perceptions of hostility between rival fans at local derby matches. Reid himself said:
""The chief interest in the whole body of work was the way in which the football supporters of Manchester United and Manchester City used to dress and treat the whole match as if it were a carnival. Despite all press reports, there was very little violence, and the fans I found most helpful in assisting with the project. They were always aware of the angle I was taking with the work. I carried around copies of the photos I was going to be using to show them I was not exploiting them by misrepresenting them in any way."
Tim Desmond, CEO of the National Football Museum said: "It is an honour to be displaying Reid's work at the National Football Museum and we would like to thank his family for enabling us to showcase such a personal collection. By their very nature, derby matches are often synonymous with the aggressive and confrontational aspects of football when they also play an important role bring people together in their shared love for the beautiful game. Manchester is home to one of the most famous derby fixtures in the world, so it feels very fitting to host it here."
A City United is on display at the National Football Museum until end January 2024. Entry to the exhibition is included within the museum's admission ticket.
---