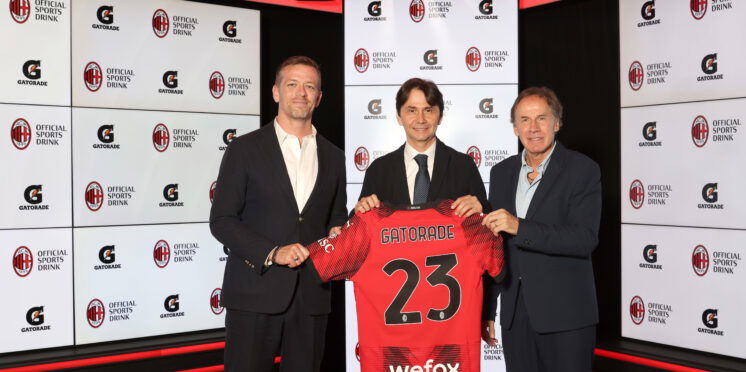 AC Milan and Gatorade renew their partnership
AC Milan and Gatorade® have announced the renewal of their partnership, which will see the PepsiCo group's brand continue as the Official Sports Drink of the Rossoneri Men's and Women's Team, during Serie A and UEFA Champions League matches. 
The two brands, united by a deep passion for innovation and a constant quest to improve sporting performance, thus consolidate a relationship that has seen them engaged in a series of initiatives aimed at sports enthusiasts.
Gatorade will continue to support AC Milan's players on a daily basis, providing products and coaching materials with the aim of maintaining high endurance performance in sport, by providing muscles under strain with the necessary energy. Gatorade builds its scientific foundation on the Gatorade Sports Science Institute (GSSI), where research is conducted on the impact of nutrition and hydration on the human body before, during and after physical activity.
As of this year, the partnership will be characterised by one important change: in 2022, Gatorade introduced a 500ml bottle made entirely from recycled plastic, taking a big step towards PepsiCo's commitment to recyclable packaging. This initiative aims to gradually reduce the use of virgin plastic in PepsiCo Italia's packaging and reduce CO2eq emissions by more than 4,000 tonnes by 2025. A vision in line with AC Milan's values, an environmentally aware Club that is carrying out, thanks to the support of its partners, a series of initiatives to promote sustainable culture, including a new recycling model for plastic bottles at its Casa Milan headquarters and the Milanello and PUMA House of Football sports centres.
Maikel Oettle, Commercial Director of AC Milan, commented: "We are enthusiastic about renewing our partnership with Gatorade, a prestigious and significant brand in the world of sport. This collaboration further strengthens the Club's commitment to achieving excellent performances, helping us to keep our players at the top of their game. We are proud to continue on this journey, contributing to the Club's success on and off the pitch."
Marcello Pincelli, PepsiCo Italia CEO said: "We are proud to confirm that Gatorade will continue to be by AC Milan's side. The consolidation of this partnership is for us, once again, a source of great pride as well as evidence of our shared values of determination and desire to achieve ever more ambitious goals. Gatorade's mission has always been to fuel the performance of every athlete."
As part of the renewal, the partnership between AC Milan and Gatorade also extends to other brands of the PepsiCo group, which is confirmed as the official supplier of the San Siro stadium's refreshment areas and bars – through its Pepsi, Pepsi Zero, Seven Up, Lipton, Lay's and Doritos brands – for all the Rossoneri's home matches.
---