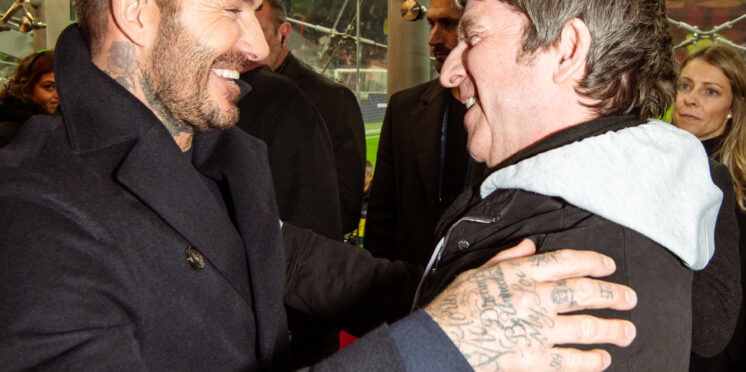 AC Milan vs. Paris Saint-Germain: world-class guests illuminate the stage of stars
In a remarkable evening of European football, the illustrious stars of the Champions League not only illuminated the San Siro stadium with their performance on the field but also graced the stands with their presence. AC Milan secured a thrilling 2-1 victory against Paris Saint-Germain, and the event attracted a plethora of distinguished guests.
Renowned musician Noel Gallagher, despite his allegiance to Manchester City, seized the opportunity to witness one of the most captivating encounters in European football. He attended the match alongside his daughter, Anais Gallagher, a well-known English content creator.
Among the distinguished guests, a diverse array of individuals from various sectors and backgrounds added to the event's prestige. Notable attendees included Pierre Gasly, the Formula 1 driver for the BWT Alpine F1 Team, Francesca Ragazzi, the Head of Editorial Content for Vogue Italy, and the esteemed producer Dwhale. The event also saw the presence of Milanese rapper Capo Plaza, accompanied by Yusuf Panseri, Simone Berlini, and Veronica Ferraro, all prominent influencers and content creators on social media. Additionally, star chefs Carlo Cracco and Andrea Berton graced the occasion, alongside the accomplished writer and artist Fabio Volo.
Furthermore, the event featured two football legends, David Beckham and Thierry Henry, who were part of a unique pre-match activation that enthralled and engaged the audience.
Noel Gallagher spoke ahead of the game, "It's fantastic; I had never been to the San Siro before—my first time. It's an extraordinary place. AC Milan must win tonight. PSG has great players, but AC Milan also has a good team." When asked which AC Milan player he would like to see at Manchester City,he replied, "An English player like Tomori." In a light-hearted note regarding PSG star Mbappé, he quipped, "I think he will go to Real, but if he wants to come to City, he is welcome."
---